3 express recipes perfect for the autumn of Big Mamma, the kings of pasta
Spaghetti, penne, fusilli, ragu, carbonara, cheese and pepper or even tomato and basil… Pasta has a multitude of shapes and recipes. To the delight of lovers of comfortable and generous cuisine. This Tuesday, October 25, pasta is in the spotlight as part of World Pasta Day. The opportunity for Big Mamma, the most famous restaurant in France, to share its best recipes. On the menu? Three particularly gourmet creations that will be perfect for long autumn evenings: great vegetarian carbonara with fried zucchini, spaghetti with sea urchins, both from his latest book Big Mamma, Italian cuisine in 30 minutes, shower included (edited by Marabout). But also its iconic truffle pasta, which puts mushrooms and parmesan first. Enjoy your meal!
Also to be discovered: Here is the best tiramisu recipe and it is signed Big Mamma
Here are 3 express pasta recipes perfect for fall from Big Mamma:
Big Mamma's great vegetarian carbonara
Spaghetti carbo veggie with fried zucchini, for garden gourmets.
For 4 friends (for 4 people)
500 g of spaghetti
4 good courgettes
6 egg yolks
250 g of pecorino (not excluding that there will be some left over for tomorrow)
Sunflower seed oil QB
Pepe as if it were raining (it's called carbonara because it must be black as coal, so come on, let's not skimp)
Cut all the courgettes with a mandolin in order to obtain nice round slices of about 3 mm thick. Fry them in a pan with very hot sunflower oil until they have a nice golden color then set them aside.
Immerse the spaghetti in a pan of lightly salted boiling water for as long as necessary. Understanding: pasta, to know if it is cooked, you have to taste it. When you find them good, take them out of the water and drain them. Meanwhile, let it rest and stir. Yes, yes, we are looking at you. Save time in cooking the pasta, quickly put the egg yolks, grated pecorino and pepper in a bowl large enough to hold the whole dish.
Pour the cooked pasta directly into the same bowl and mix. Pepper again, add the fried zucchini and place the plate in the center of the table.
Stir, serve and puree. Turn quickly, eat it hot. And above all, leave the crème fraîche very, very, very far from this recipe and the work surface. If an Italian ever passes, you never know.
Big Mamma's spaghetti with sea urchins
Spaghettone with sea urchins, garlic and olive oil.
We are very generous, so we will give you two dishes in one. Typical Italian recipes that we cook in the evening on our way home from work: spaghetti with garlic, oil, chilli; and its ++ version of the sea: spaghetti with garlic, oil, sea urchin. Are you drooling? We too.
For 4 friends (for 4 people)
600 g of spaghetti (on the advice of Charlotte who is always hungry)
150 g at least clean sea urchins (previously washed in the fish shop)
2 cloves of garlic 2 garlic
1 fresh pepper 1 fresh
1 bunch of parsley 1 parsley
Extra virgin olive oil QB
Dip the pasta into a pot of boiling salted water and cook it al dente. At the same time, chop the parsley and garlic separately. Cut the fresh chilli into small pieces.
In the family pot, pour plenty of olive oil with the chilli and garlic and sauté over low heat for at least 6 minutes. You are offered two options, but be careful, make sure you save all the oil either way. For the true rituals, let's leave the chilli and garlic inside. For small players from elsewhere, we collect them in Chinese.
Add the pasta and a ladle of cooking water to the pan with the flavored oil and brown for 1 minute. Here, we mix well to evaporate the water and create a nice emulsion. After cutting the sea urchins without biting, remove the tongues using a teaspoon. Then add them with the parsley. Be careful, they must be eaten immediately, otherwise they will stick. This is not the time to refill a small glass to drink, let's go to the table. It's ready! Without sea urchins, you will still get the most typical dish in Italy. It's simple, any self-respecting Italian eats this after his worst day. This is THE homecoming recipe.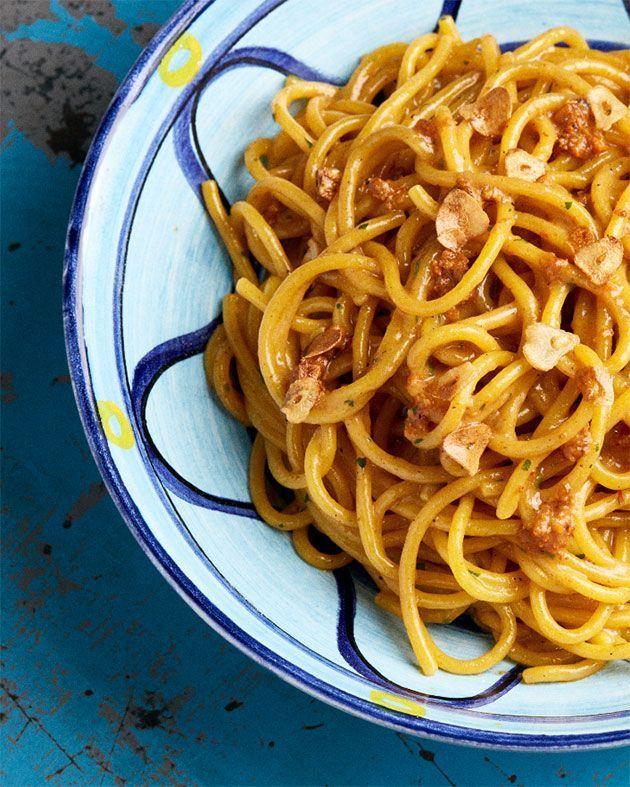 Big Mamma truffle pasta
For 4 friends (for 4 people)
400 g mafaldine or linguine
70 g of Parmesan cheese
20 g of butter
2 cases of truffle oil
1/2 shallot
1 truffle of 20 g
200 g of champignon mushrooms
3cl of white wine
80 g of mascarpone
Prepare the truffle cream: melt 20 g of butter with 2 tablespoons. to s. of truffle oil in a pan. Add 1/2 shallot and half of 20 g of chopped truffle, then 200 g of sliced ​​champignon mushrooms. Leave to brown for a few minutes, then blend with
3 cl of white wine, mixing well with a wooden spatula to dissolve all the juices.
Cook over low heat for 10 minutes. Mix.
In another saucepan, cook 400 g of mafaldine or linguine slightly less al dente in boiling salted water. In a saucepan, mix 80 g of mascarpone with the truffle cream and heat gently. Add the pasta, 70 g of grated Parmesan cheese and a little cooking water, if necessary.
Serve and grate the remaining truffle on plates.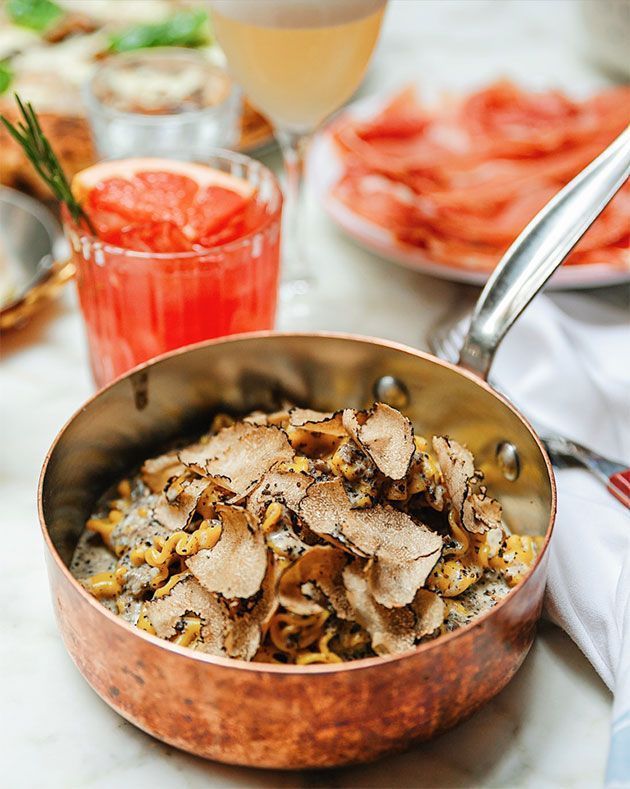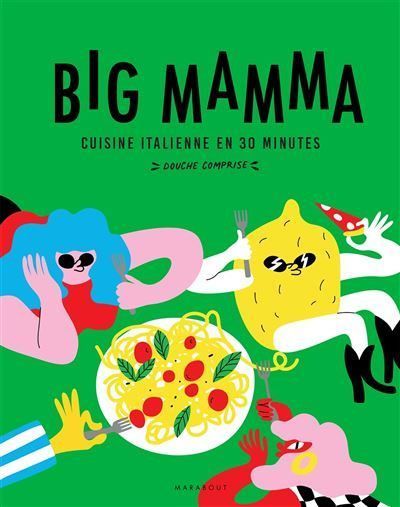 The recipes of the great vegetarian carbonara and spaghetti with sea urchins are taken from the book Big Mamma, Italian cuisine in 30 minutes, shower included, and. Marabout.