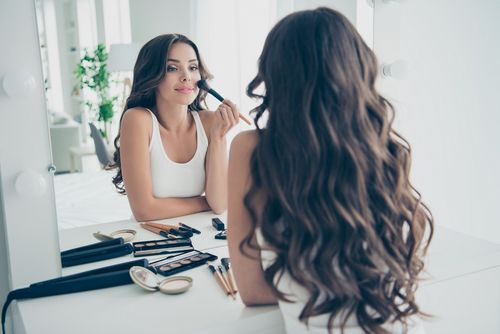 Cosmetics: Everlasting chemicals are part of the recipe
Sebastian Sauve
Credit: Amelie Philibert | University of Montreal
Smooth, foamy, water repellent: these characteristics are highly sought after in beauty products. But to achieve these qualities, manufacturers sometimes use ingredients that contain fluoride, including potentially dangerous per- and polyfluoroalkyl substances (PFAS).
A research team from Carleton University and the University of Montreal has just released analytical results demonstrating that some cosmetics and personal care products labeled as containing fluorinated components also contain PFAS, and that these "eternal chemicals" do not necessarily appear in the list. 'list of ingredients.
"Although the most worrying PFASs are no longer used in many beauty products, in some cases they have been replaced by other classes of PFAS whose consequences on health and the environment remain unknown," points out Sébastien Sauvé, professor in the Department of Chemistry from the University of Montreal and co-author of the study.
A recent study found that cosmetics in the United States and Canada still contain these substances, but it was unknown if these compounds were found in personal care products such as lotions, body washes, shampoos and shaving creams.
Professor Amy Rand, of Carleton University, and her colleagues then wanted to examine a variety of beauty products that listed fluoride components in their formulations for the presence of PFAS.
In 2020 and 2021, the team purchased 38 of these brand-name beauty products sold in Canadian stores and online that contained organofluorine compounds and tested them for older types of PFAS.
Present in the container, but not always in the ingredients list
All samples had measurable levels of PFAS, but some of the compounds detected were not listed as ingredients in the products. Levels found in personal care products were generally lower than in cosmetics. The team found that two foundations, labeled with terms similar to water repellent, had high levels of PFAS. In one, these compounds were even in the thousands of parts per million, a level that exceeds Canada's proposed PFAS regulations.
More than 200 types of PFAS in the daily beauty ritual of Canadians
Going beyond their analyses, the team selected a subset of purchased items whose analysis revealed more than 200 other PFASs, including emerging classes that are displacing older compounds.
An emerging class—monohydrogen-substituted perfluoroalkylcarboxylic acids—was found in 30% of products in the subset in proportions ranging from less than one part per billion to hundreds. During this analysis, the research team also discovered a variety of structurally different PFASs that did not appear to be related to the PFASs originally added to the products, which could be the result of product aging or contamination with impurities in the raw materials.
These findings highlight the diversity of PFASs and their known presence in some cosmetics and personal care products currently sold in Canada. However, more work is needed to understand where unexpected PFAS come from.
About this study
The article "Targeted and Suspicious Screening for Per- and Polyfluoroalkyl Substances in Personal Care and Cosmetic Products," by Keegan J. Harris, Gabriel Munoz, Vivian Woo, Sébastien Sauvé, and Amy A. Rand, was published on 30 September 2022 under review Environmental sciences and technologies of the American Chemical Society. doi: 10.1021/acs.est.2c02660.
The study was funded by Discovery Grants from the Natural Sciences and Engineering Research Council of Canada and the John R. Evans Leaders Fund from the Canada Foundation for Innovation and the Research Fund of the Quebec – Nature and technologies.