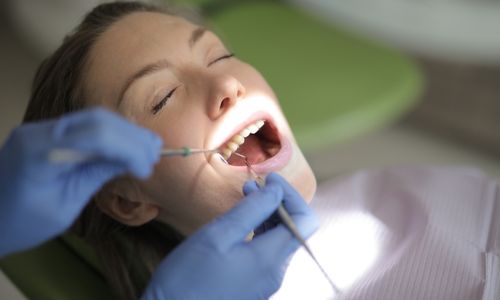 healthy teeth against malnutrition
"Maintaining a functional oral system greatly reduces the risk of malnutrition," say dental surgeons. They warn of this important public health issue which particularly affects people with disabilities.
" Teeth reach the mouth without decay, so how can we maintain good oral health and thus effectively combat the risk of malnutrition? ", a fortiori for people with disabilities for whom this treatment is still difficult to access, questions Dr. Anne Carlet, dentist and secretary of the French Union for Oral Health (UFSBD). Several experts, gathered collectively, have given possible answers and sounded the alert on this" important public health problem during a webinar on November 18, 2022 as part of National Malnutrition Week. Objective: to allow everyone to enjoy life to the fullest!
The mouth, the first portal to iron health
Malnutrition is A insidious and silent disease affecting two million people in France », mainly the elderly, hospitalized, sick, disabled and children. Poor oral hygiene and lack of dental follow-up are the main risk factors. " Improving oral health is therefore a prerequisite for its prevention.insists Dr. Joseph-John Baranes, general secretary of the Collective to Fight Undernutrition. And it's everyone's business! » « Isn't the mouth the first crossroads of the digestive tract? Isn't that the first crossroads in life? ", continues the dental surgeon, recalling that oral health plays a fundamental role in breathing, digestion, social life, self-esteem, with a direct influence on health and quality of life. It's still, " having good oral health is, it seems, not yet considered a top priority », complains Dr. Régine Velay, vice president of Handident Occitanie.
Impact on health and morbidity
" Among people with disabilities, dental care is still too often evaded, replaced by multiple extractions (often without general anesthesia), misunderstood pain, total edentulism (a handicap that is added to the handicap), unsuitable removable appliances, bad teeth, unpleasant smiles, bad breath… So many big risks to sink into malnutrition confirms Dr. Anne Carlet. However, tooth decay can cause pain, difficulty grinding food and therefore digestive disorders, infectious complications, ENT or lung problems, or even harmful food preferences. Dr. Anne Abbé-Denizot, Vice-President of the UFSBD, notes, more specifically, a " significant impairment in some patients with autism spectrum disorders (ASD) or mental disorders that can be difficult to treat on a regular basis in the office ". " Possible pathologies of the oral cavity and the difficulty in inserting them will lead to malnutrition as well as disturbances in masticatory capacity, balance and a decrease in the quality of life, which are morbidity factors. ", he adds.
The main role of helpers »
Good oral hygiene is therefore essential and must be personalized. But this gesture is not always easy to perform, especially for people with mobility difficulties or carers who have to do it on others. If in doubt, do not hesitate to seek advice from dentists, doctors and other health professionals, but also from associations of people with disabilities. Professional sites such as UFSBD and mabouchemasante.fr also provide valuable information. The UFSBD also co-designed, with Health CoActis" comic health », a free tool that aims to promote communication between patients and professionals and demystify various health-related topics using images and simplified language (in Easy to Read and Understand or FALC). There are several oral health leaflets available: I have a dentist appointment, I'm in a wheelchair », « What is descaling? », « How to take care of my teeth », « How to choose the toothbrush ".
On the other hand, it is " It is essential that this theme is integrated into the project of medical-social institutions, to train professional operators in prevention, have dedicated contacts to initiate and perpetuate good practices and, finally, request a dental check-up upon entering a plant or during a new care of a patient at home », adds Dr. Anne Abbé Denizot.
Oral disorders: another factor of malnutrition
While poor dental condition can cause undernourishment, the reverse is also possible. " Whatever the case with malnutrition, it is therefore imperative to first eliminate a bad oral condition from the etiological picture. ", encourages Dr. Régine Velay. But other causes of undernutrition are also mentioned, especially oral disorders, which include " all oral feeding difficulties ". " They appear very early, are often associated with a disability and can be diagnosed from birth due to hypersensory. ", explains Dr. Abbé-Denizot. Affected children are particularly sensitive to smells and tastes, very selective in food and reject new culinary experiences. These pediatric eating disorders particularly concern young people with ASD or Prader-Willi syndrome, neurological, metabolic, gastroenterological diseases or even premature infants. Indeed, " 80% of children with developmental delays have eating disorders, with an underlying organic cause most oftensays Anne Abbé-Denizot. In case of disability, oral disorders are identified quickly because the nursing staff and carers are particularly attentive and will do everything possible to avoid malnutrition, but it is not always easy. ", he observes.
Mandatory global support
" The management of this disease must imperatively be global and involve close collaboration between all stakeholders: families, caregivers, dentists, doctors, nutritionists, speech therapists… The more we work together, the more possibilities we will have to combat these problems » insists Doctor Abbé Denizot.
Remember that, to maintain a healthy mouth, the UFSBD recommends two washings a day, morning and evening, for a minimum of two minutes, according to protocols and equipment adapted to each one, the use of dental floss or brushes before brushing afterwards with a toothpaste to fluorine. It also recommends a balanced and varied diet divided into three meals a day, avoiding snacks, as well as a visit to the dentist at least once a year, from the age of one. To not have a health in " Sawtooth »?
"All reproduction and representation rights reserved.© Handicap.fr. This article was written by Cassandre Rogeret, journalist of Handicap.fr"