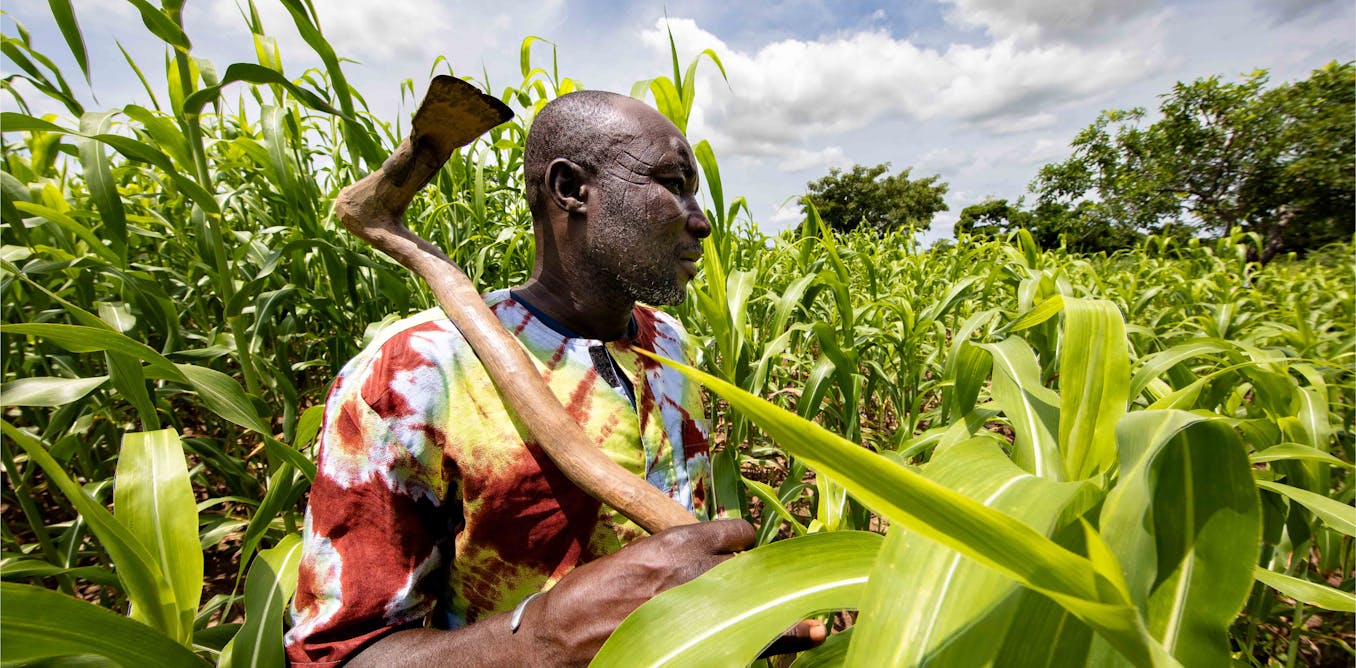 In Burkina Faso, an open-air laboratory for the agroecological transition
Early one morning in September 2022: Hamado Sawadogo and his team of agronomists left the city of Ouagadougou at dawn. They head northwest to join a group of farmers from the municipality of Arbollé.
The pickup leaves the asphalt and zigzags along a laterite track, bypassing muddy puddles and deep ruts.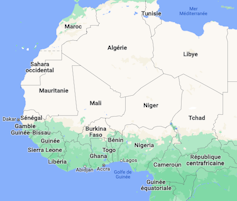 Like every September, winter rains have transformed central Burkina's wooded savannas into verdant wet parks. All around the convoy, ears of sorghum sprout in great clumps among groves of acacias, wild grasses and shea butter trees.
Hamado Sawadogo is an agronomist at the Burkina Faso Environment and Agricultural Research Institute (INERA). Since 1993 he has accompanied the farmers of Burkinabè experimenting with them all kinds of innovations.
But a few years ago his work was turned upside down when armed groups of jihadists invaded much of the country. Some areas of intervention had to be abandoned; others have remained accessible, but at the cost of short expeditions.
Fortunately, the city of Arbollé is spared for the moment. These new working conditions have not discouraged Hamado Sawadogo:
"Despite the context of insecurity, research continues alongside farmers to propose agro-ecological solutions adapted to climate change. »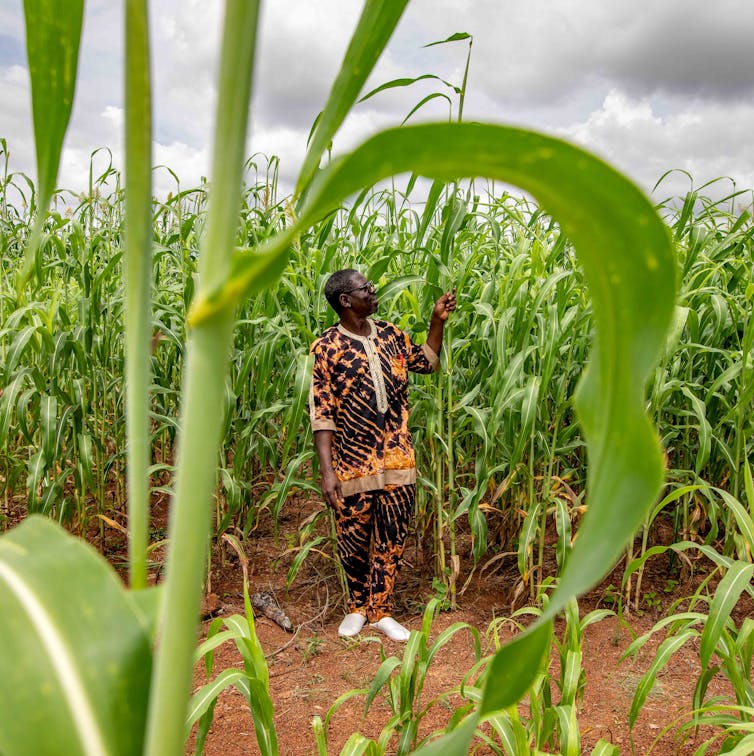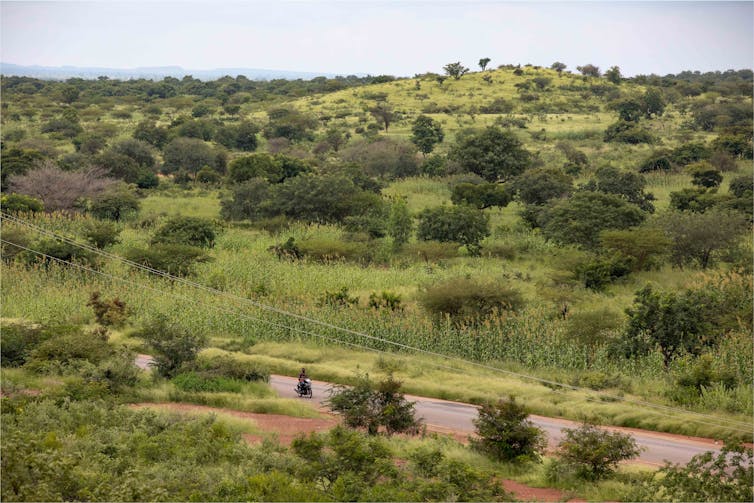 A school camp where researchers and farmers work together
The group of farmers awaits the researchers at the "central field" of Arbollé. This 1-hectare plot has been used since 2021 as a place for agronomic experimentation and co-learning.
With the support of the Fair Sahel project, 15 agronomic innovations were tested in 2022: intercropping, rotations, new varieties, better fallow land, new sorghum and cowpea varieties, etc. The technical options to be tested were selected in June 2022 through a participatory approach.
Three months later, the ideas that had germinated during the workshop came to life in a colorful patchwork of small textures.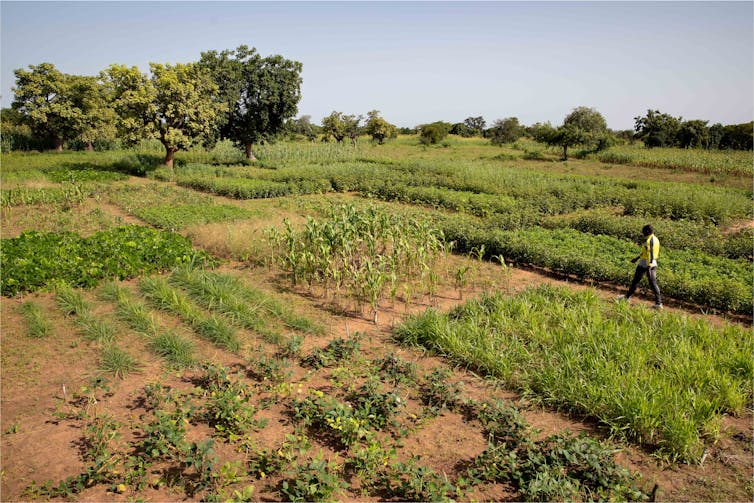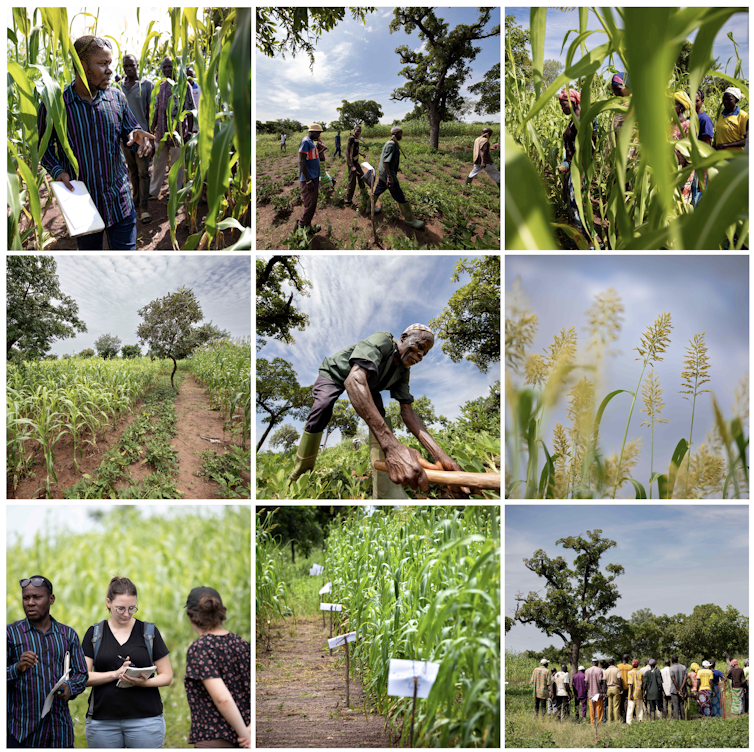 Ecologically intensifies crops
The group advances rapidly through the central corridors of the camp. A4 sheets hanging from the poles show visitors the technical options being tested: zaï, crescents, aratura, mucuna, bracharia… so many vernacular or exotic names that ring like promises for the future of agriculture.
In this field trial, the main goal is to "ecologically intensify" cropping systems. We must step up, because agriculture must meet the growing food needs of an ever-growing population; but do it in an environmentally friendly way, otherwise the basic resources on which agriculture depends risk disappearing.
[Près de 80 000 lecteurs font confiance à la newsletter de The Conversation pour mieux comprendre les grands enjeux du monde. Abonnez-vous aujourd'hui]
Traditionally, sorghum-based agricultural systems were balanced through fallow, a practice of leaving fields fallow for one or more years. It has made it possible to restore the natural fertility of the soil and to reduce parasitic pressure.
The balance was also based on crop rotation, in which sorghum was preceded by cowpea, sesame or peanuts.
However, in recent decades, agriculture in the region has been weakened, wastelands tend to disappear due to land pressure. This results in a drop in soil fertility that producers are trying to compensate with chemical fertilizers. The systematic use of these products in turn leads to the devitalization of agricultural land.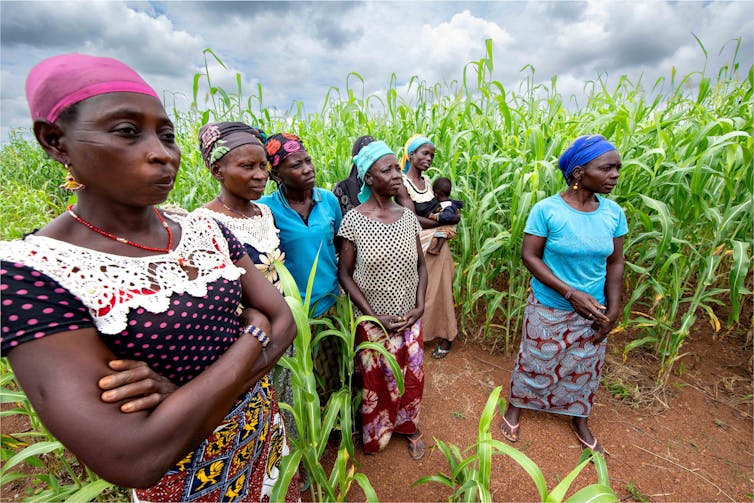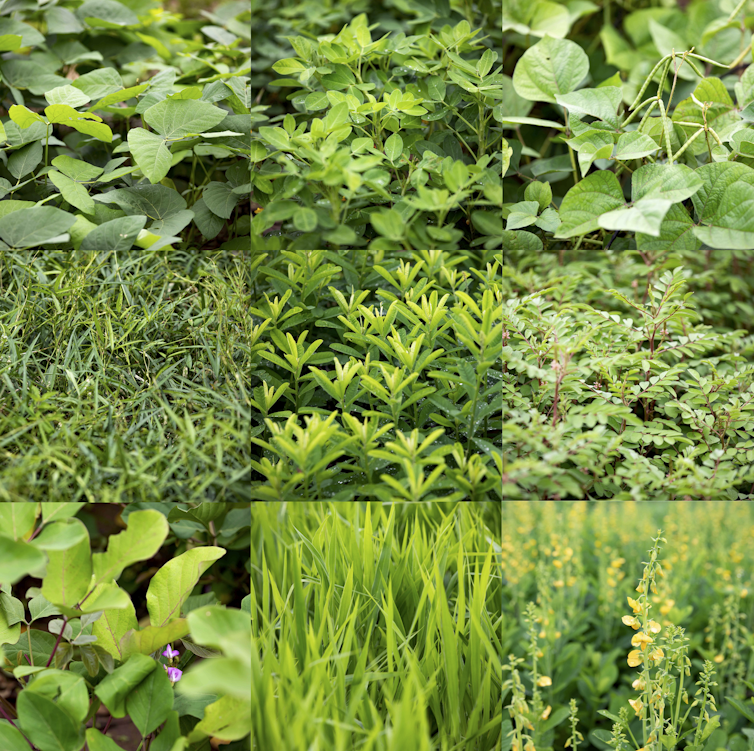 A vote and debates
After visiting the central field, the farmers gather in the shade of a large tree and proceed, at the invitation of the researchers, to vote: it is a matter of electing the agronomic options that seem to them most promising.
They also have to justify their choice, which opens up contradictory debates: to the great surprise of the researchers, the participants mainly opt for "pure" crops, i.e. those that correspond to local customs. Too bad for a project to support agroecological innovation that supports crop associations! How to interpret this peasant vote?
First of all, it must be recognized that some of the innovations tested are not yet perfected agronomically. Growing associations have not all done well due to competition for nutrients and light. Second, it appears that farmers evaluate agroecological innovations by limiting themselves to a short-term performance criterion. The renewed fertility and forage biomass that service plants provide has obviously not been enough to convince them, those who seek above all to secure food.
Support for the agroecological transition should therefore not be limited to simple experiments, however participatory they may be; there is still a need to provide new frameworks for evaluating agronomic performance and to allow time for trial and error in cropping system design. Finally, food safety nets must be provided so that farmers can continue to innovate without fear.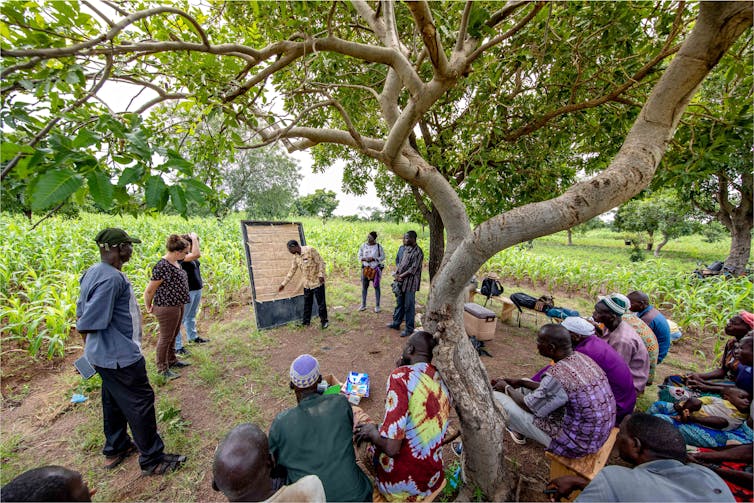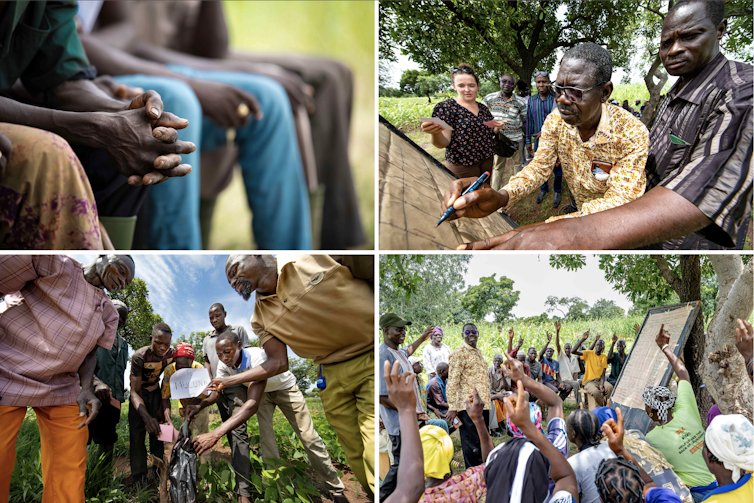 A network of pilot producers
In the surrounding villages, it is the farmers themselves who take over the reins of agronomic trials.
At the end of the first year of the project, they selected the innovations from the central field and tested them directly in their plots. The 15 producers involved thus formed a network of "satellite courts" (as opposed to the "central court" above). Fati Sawadogo, producer of Arbollé, shares her experience:
"I have discovered several crop associations in the center field and have decided to replicate them at home to my heart's content. […]. I alternated two rows of sesame and two rows of cowpea and compared the result with cowpea only […]. The new knowledge provided by the project will eventually allow me to improve my agricultural practices. »
This type of multi-local experimentation facilitates the appropriation of innovations by farming communities.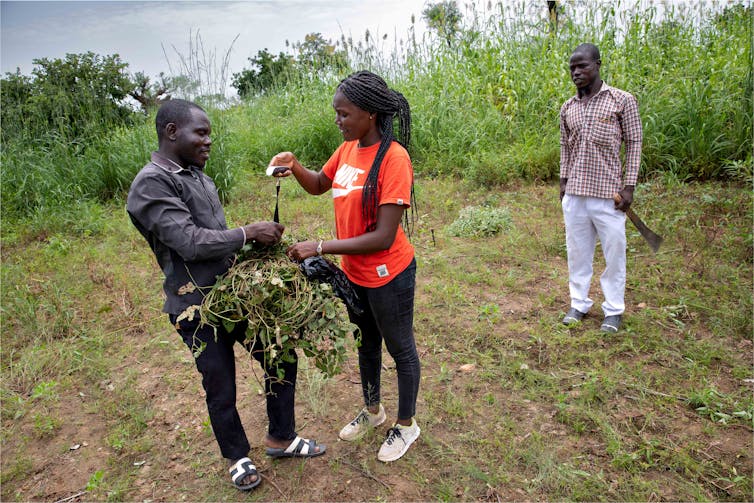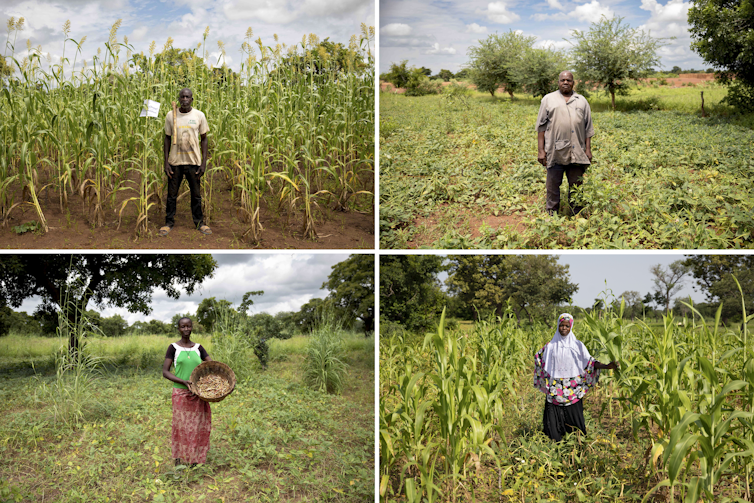 A rear foundation for innovation
100 km from Arbollé, on the outskirts of Ouagadougou, the agronomic station of Gampela hosts cutting-edge agronomic research which feeds the dynamics of innovation created in rural areas.
Here, CIRAD and INERA researchers are testing a wide range of "service plants": mucuna, peanut, mung bean, rattlesnake, bracharia… Most of these species are already found in the wild in Africa, but their agronomic interest has never before been studied.
Cultivated in rotation or in association with sorghum, these plants enrich cropping systems by improving soil fertility, producing forage and/or consumables. A way to encourage farmers to adopt "improved fallow". Gampela station is also a place of conservation and selection of local varieties of sorghum.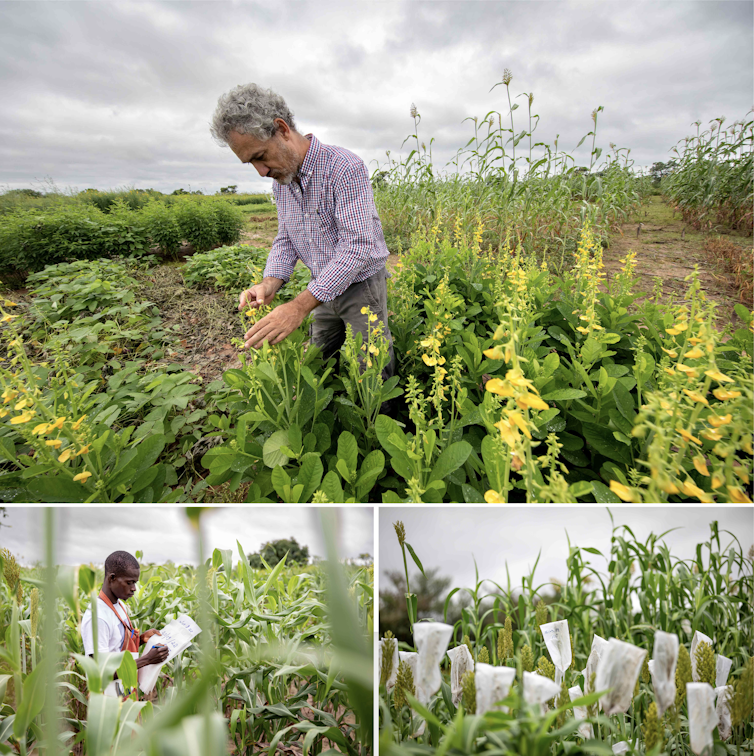 The tests at Gampela station as well as the Arbollé central and satellite fields are only one component of a much larger system. The Fair Sahel project supports similar co-design approaches in other regions of Burkina Faso, as well as two other Sahel countries, Senegal and Mali.
---
Amélie d'Anfray (CIRAD) is co-author of this article.