CST Workshop #15: Designing a Scientific Infographic | ECOSCIENCES
Infographics are a communication tool commonly used to convey complex information quickly and clearly, which is based on captivating and impactful visual elements that help guide the public in reading and understanding the message. So it's no surprise to find infographics in many popular science media!
But how to design an effective and impactful scientific infographic? This is the question we asked Axel Pittet, founder of the scientific communication agency Perceptiom, for this first "Scientific culture laboratory" 2022/2023!
Step 1: Before you start, (re)lay the foundations

The design of a means of communication, whatever it is, is always part of an editorial line and a more global communication strategy. Designing an infographic should be no exception!
Before embarking on graphic design, it is essential to take the time to (re) ask yourself a few fundamental questions:
Who are you ?
What are your goals?
Do you know your audience?
What is your editorial line?
What graphics do you have? (graphic card)
What distribution channels do you use? (this will define the format of your infographic)
How to be impactful? (AIDA method, see image below)
A passage that Axel Pittet recommends to do on paper, to avoid distractions and concentrate on the essentials!
The AIDA method is commonly used in communication and marketing (source image)
Step 2: Choose a suitable infographic style

You can find many examples of infographics online, with very different styles. Orientation is not always easy! So how do you build a relevant and impactful infographic?
Indeed, the layout of the infographic will depend on the objectives we set ourselves and the type of data we want to insert in the images. Here are the main types of infographics:

visual infographics;
Statistical infographics;
informative infographics;
Timeline infographic;
Process infographic;
geographical infographics;
Comparison infographic;
Hierarchical infographic;
Infographic list;

The video above details which frameworks to use them in and provides some examples of results. You can also look to other sources of inspiration like:
Step 3: Start with the graphic design
Now to practice! To help you, many free and easy-to-use tools are available online.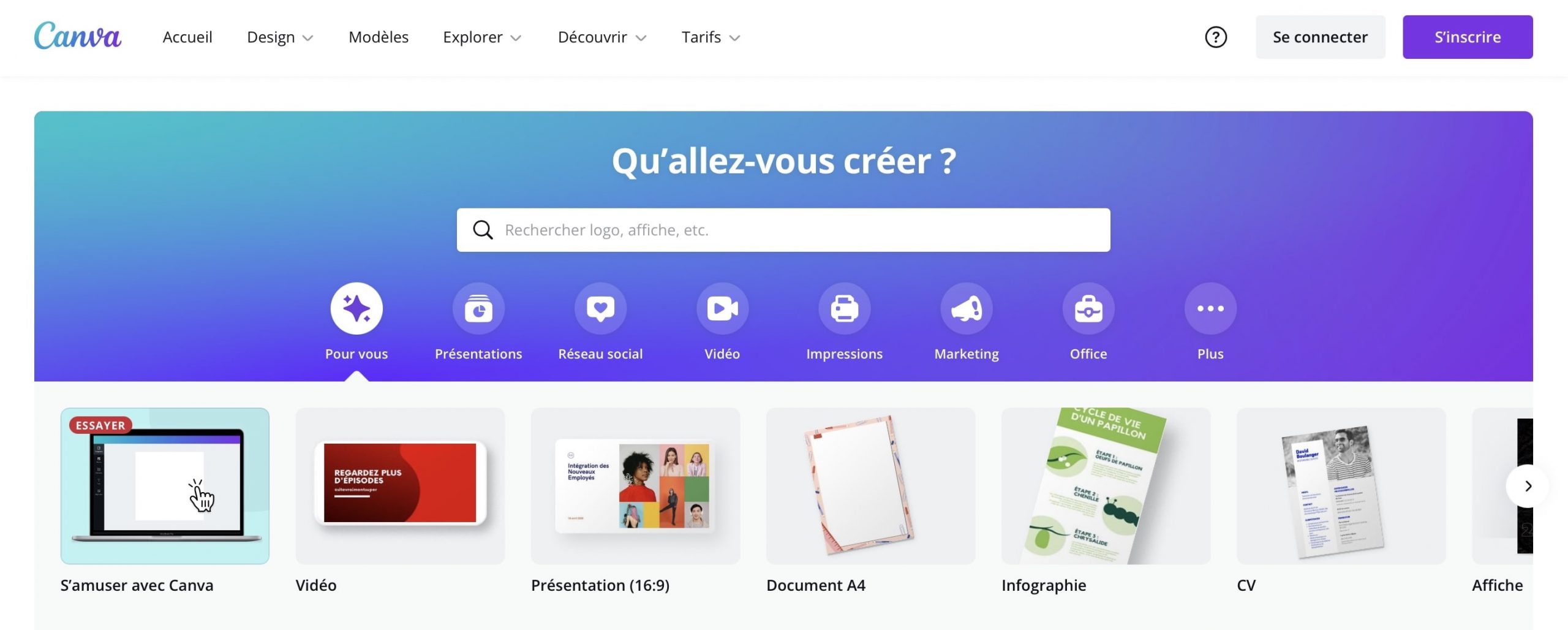 For graphic design: Canva
Canva is an online graphic design tool. It can be used for free but also has a paid professional version.
Its advantages:
Thousands of 100% customizable templates.
It allows you to use the same support in different formats: social networks (Instagram, Twitter, Facebook, LinkedIn), paper (A4, A5, poster, etc.)
Download of media in different formats (JPEG, PDF, etc.).
A collaborative way to work as a team on a project
Its disadvantages:
The free version is suitable for occasional use and simple media, but the professional version is recommended for more regular use and if you want access to more features.
Of course, it is also possible for communication professionals to use other tools to create an infographic, such as the Adobe suite.
Other practical tools
In summary

Now you have all the keys to start your science infographic projects! If there's one thing to remember: don't overlook step 1! An infographic may be considered clear and aesthetic, but if it doesn't meet its audience, you will have missed your goals.
As for the graphics, don't hesitate to test and experiment, without drowning in the multitude of resources available online! Always go back to basics: your communication strategy, your editorial line and the key message you want to convey through your infographic.
Go beyond

To stay up to date on the next "CST Workshops", do not hesitate to regularly consult the website of the Department of Culture and Scientific Culture of the University of Grenoble Alpes and follow us on social networks through the hashtag #AtelierCSTUGA!
Finally, you can find all the summaries and factsheets of previous workshops in the dedicated Echosciences tab.
---
This article is co-authored by Clementine Martinoscientific mediation assistant e Sandy Aupétitresponsible for scientific mediation and at the Department of Culture and Scientific Culture of the University of Grenoble Alpes.