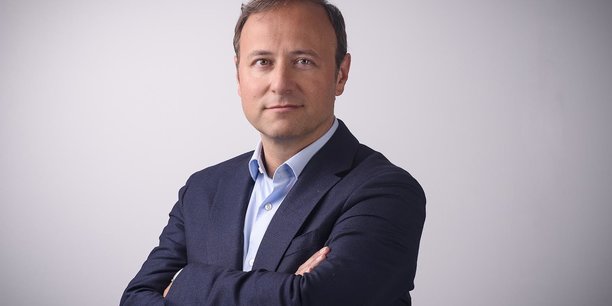 "Producing in France is profitable for Soitec" (Pierre Barnabé, CEO)
LA TRIBUNE – More than 100 days after taking office as managing director, what is your first assessment of the situation?
PIERRE BARNABE – I actually arrived in early May. I found a highly motivated team, led by a very interesting strategy, which I confirmed and amplified myself. We are fortunate to have very busy teams, in Bernin, in Isère (where 75% of production takes place, ed), but also in the rest of the world and especially in Singapore, Belgium and the United States. where I have already had the opportunity to meet teams, partners and suppliers.
Soitec confirmed, just a few weeks ago, its annual targets (which target an expected revenue of 975 million dollars), after recording a quarterly growth of 40%: do the half-year results presented this Thursday confirm this trajectory?
In fact, we confirm the results announced a month ago, but now we have a more complete and solid view of the results, given that we record 18% growth in terms of revenues on a like-for-like basis.
This represents great results in a semiconductor market seen as more difficult after a slightly disappointing first quarter as we had to deal with two incidents: an electrical incident in early April and a social action filed last June.
But we must highlight the remarkable work done by all our teams at an operational level, which has allowed us to still achieve this growth, with a profitability of 35.5%, which allows us to continue investing in our factories and our teams.
It should also be noted that, in parallel with the mobile communications market, the automotive market recorded a growth of almost 80% in the second quarter, which reflects the needs seen in this sector today.
It is this dynamic as a whole that allows us to confirm our annual growth forecast of 20% and to envision aiming for $2.3 billion in revenue by 2026.
However, your turnover has so far been very exposed to the smartphone market, even if you have begun to diversify towards the automotive sector, and more generally, towards high value-added telecommunications (5G, etc.). How has this segment evolved over the past six months?
The overall smartphone market is on a downward trend, but it should be remembered that Soitec mainly addresses the medium and high-end market, which corresponds in particular to the new generations of 5G-related devices. However, these are experiencing much more positive market dynamics.
We are also benefiting from an increase in the content of smart silicon wafers in phones, which allow us to significantly improve services, significantly reducing energy consumption.
Today, Soitec's market share in a phone is increasing with each new generation of devices. And even though the global market is shrinking, we continue to increase our market share in the field of mobile communications, with a 14% growth recorded in the last six months.
Your growth plan includes a desire to increase the share of automotive applications from 10% to nearly 35% within five years. Will this happen within your Embedded Intelligence Technologies division?
This 35% target actually includes the two sectors we have chosen to accelerate in, namely the automotive industry (by 20%) and the connected things industry (by 15%), by 2026.
Rather than diversifying, we rather intend to continue moving into very vibrant markets, which are smart substrates, coming into the mobile communications that we were already targeting, but also into these two new high-growth markets, which are the automobile and the connected objects.
And this, through technologies that we were already using, such as FDSOI (for "completely depleted silicon on insulator") is an "in-house" technology of Soitec which improves the performance of transistors by cutting thin slices of silicon to introduce an insulating layer, ed) for mobile phones, or through new generation components, such as silicon carbide for automobiles.
However, markets expect sales of smartphones and consumer electronic devices to slow down in 2023: do you remain confident in the face of the weight of inflation?
We're analyzing the market today, but it's too early to tell what the trajectory will be for next year. In fact, we look at different elements, such as the level of inventories at our customers, as well as the dynamics of the markets for mobile telephony, electric vehicles or artificial intelligence, and we take into account the different perspectives, in order to be able to give a forecast for the next year.
But at this stage, don't you see a slowdown in your results, both half-yearly and annually?
At the moment no, it is not.
What is the impact of the energy crisis on the results of the group, and more generally on your production? We clearly saw, during the power outage due to the fire in Brignoud (Isère), that the power supply of the site with its high voltage line remained an important factor for the semiconductor industry and its halls.
This impact remains very limited today because, in addition to benefiting from a green electricity supply through specific contracts signed with our hydroelectric energy suppliers, this energy cost is itself today very limited, within our overall production costs .
Furthermore, we had the good idea of ​​signing multi-year contracts, which allow us to guarantee our supply as well as our prices, and to cushion the ups and downs of the coming months.
You have chosen to continue investing in France with Bernin 4, where you still carry out a large part of your production, while other players are already in Asia or are tending to study a redistribution of cards, towards markets where the energy cost is indeed lower: it is still profitable for you to produce mainly in France?
Yes, it remains profitable, because we have both a lot of equipment and very skilled operators and technicians, which means our cost structure remains relatively equivalent across the two markets. Most of our costs remain heavily tied to the supply of silicon wafers and other materials.
The shortage of components and the tensions on raw material prices have fueled the news of recent months: has this situation had an impact on supply?
In previous years, Soitec has encountered shortages in the supply of used raw silicon wafers. But since then, we have signed long-term contracts with our suppliers in order to secure our supply for several years. This is why we now have a resilient model in the face of the current crisis.
Does this mean that the bottleneck, in terms of production, is further down the chain?
Naturally, in some industries, there has been stronger demand than production capacity. But we try to close the gaps as much as possible, in general, to meet demand. And this, while the number of components per vehicle, and globally within all new models to come, is becoming increasingly important with the rise of the electric car. This generates an acceleration effect which must be anticipated. This is a factor that we are working to reduce over the next few quarters.
Your growth plan also envisaged the doubling of the workforce in five years and this, while the war of talents is raging in the field of microelectronics: where do you stand today on these goals?
We are in fact doubling our workforce by early 2026 and, that being the case, we are succeeding in recruiting. In 2022 alone, we created several hundred new jobs, thus adding talent to our teams around the world, and especially in France (Bernin), Singapore… We also have the possibility of having job pools that they allow us to recruit.
In his latest ESG report just published: his predecessor has already spoken of the "green equation", with greater attention to "eco-design", while the electronics industry is often singled out for a form of planned obsolescence. In particular, have you set new carbon neutrality targets?
This is a very important issue as, in addition to being a technological standard, we have also set ourselves the goal of being a reference in terms of ESG criteria, as a company. This is why we are already using green hydropower and working on it on other renewable energy in Singapore such as solar.
This also involves measures to reduce the consumption of our sites, water recycling, as well as all social issues, with a work on diversity and inclusion, which has allowed us to recently receive the Semi Professional Association Inclusion and Diversity Award . The environment is an important axis for Soitec, and which also allows us to be a factor of attraction for young talents.
We are committed to working not only on carbon neutrality, but to greatly reduce all our consumption, whether in terms of carbon energy or just energy. We are working to maintain the same volume of energy consumed, multiplying production capacities from two to four.
And we already know that Soitec's Smart Cut technology uses less electricity than conventional silicon, thanks to its thinner active layer. It is our wish that the more we deploy Soitec technologies around the world, the more we simultaneously reduce the electric bill of phones and electric equipped vehicles on a global scale.