"From Pelé to Mbappé, there is a dream in me that doesn't want to die"
Over the course of the interviews and meetings, Michel Drucker and Pelé became friends. The presenter of "Vivement dimanche" remembers him and pays him homage.
"Have I ever come across a brilliant, universal star like Pele in my life? I'm not sure, except maybe Cassius Clay, the boxer, who will become Muhammad Ali. With Pelé I have the strange sensation that it is my life, my professional career that is passing.
Mexico 1970. It was his last World Cup, in full sun, in full glory. Unexpectedly, the ORTF sports department sent me to follow the event, with my friend Michel Dhrey. We are both among the youngest commentators in the world, two hungry guests of the sumptuous Camino Real hotel in Mexico City, among the greatest fortunes that sport generates.
At our same level are Joao Havelange, new president of the International Football Federation (FIFA), and Horst Dassler, son of the founder of Adidas. The era is light and relaxed. Everyone talks to everyone. There are no strict security measures, no agents, let alone bodyguards.
The atmosphere, the colours, the game that flourishes there: this World Cup will prove to be magical. Brazil won in the final against Italy and defensive football, and Pele, at the peak of his art, won his third World Cup. A goal and an assist, blindly, for Carlos Alberto. A school action for the big story.
His extreme kindness that made him look like mere mortals.
That same evening I was invited to the official FIFA dinner thanks to Dr. Pierre Huth, the dentist to the stars. I'm living a daydream, I'm in football heaven. Indeed, thanks to Pierre Huth, very influential with international bodies, I was offered the Puma shoes with which Pelé played in the final. A gift from heaven. I will keep this pair of crampons for a long time before entrusting them to a disabled young man.
I interviewed him several times and we became friends.
I will comment on four other World Cups, up to the one in 1986; always the image of Pelé will be present in me. Because he is one of those men who mark you for life for their talent and their planetary aura, of course, but above all, and I insist, for his extreme kindness that made him look like ordinary mortals.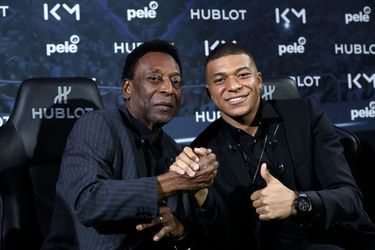 I interviewed him several times and we became friends. I remember this time when, before a gala match, in the intimacy of her hotel room, she showed me her legs and the traces of the blows received during more than a thousand official matches played. I still wonder how he was never seriously injured, how his body was able to bear what he suffered for twenty years. It's incredible !
Another memory, in Liège, where for a charity match at the Standard stadium I had the opportunity to play alongside him. In our team, Raymond Kopa, the idol of my youth, and the Hungarian Ferenc Puskas. That evening I could see, up close, how graceful his every gesture was.
Pelé approached Mbappé, appreciating him as his worthy successor
I had known for some time that his health had deteriorated. Pelé passed away shortly after the final whistle of the 2022 World Cup: what a symbol! – While a phenomenon of his caliber is growing in France, a certain Kylian Mbappé. This 24-year-old shows exceptional maturity, presence and talent.
Pele was not mistaken there. He approached him, appreciating him as a worthy successor to him. From Pelé to Mbappé, there is the whole history of football and, deep down, at home, a dream that doesn't want to die. »