Armada's canaille cuisine in Vieux-Lyon
Today I take you to a new address that has been talked about since its opening in Vieux-Lyon: Armada
Let's start with the booking phase. A new address often arouses excitement and curiosity, so I wanted to make sure I got a table. But booking has become a thorny issue for many restaurateurs, faced with the problem of not honored reservations. Some now choose to overcome this by asking their customers to deposit their bank details when booking online. Thanks to this imprint, the restaurateur reserves the right to take compensation from the credit card of his unscrupulous customers who went bankrupt without warning.
To book at Armada, I therefore had to deposit a bank imprint of the amount of €30 to confirm my booking. Unfortunately I can understand that this type of arrangement is a double-edged sword and may surprise, even cringe, some people who are reluctant to give out their credit card number at all costs. But that's another story that could be the subject of another article. Let's go back to the topic that interests us today: Armada and its rascal cuisine and its mischievous wines.
A kitchen that dusts off Old Lyon
The concept is that of the discovery of flavours. Armada shakes the codes of Vieux-Lyon and its traditional very meaty caps offering cuisine off the beaten track. You can sit there alone or with others to enjoy good tapas style dishes.
Once seated, the waitress comes to meet us and takes the time to explain the dishes on the menu to me and my friend and to justify the daily proposals based on the arrivals of local products.
Having placed my order, my gaze travels the restaurant. Despite some neon lights and colored wall sections, the structure has kept the spirit of the past: exposed bricks and beams that recall the rustic and typical side of the historic center.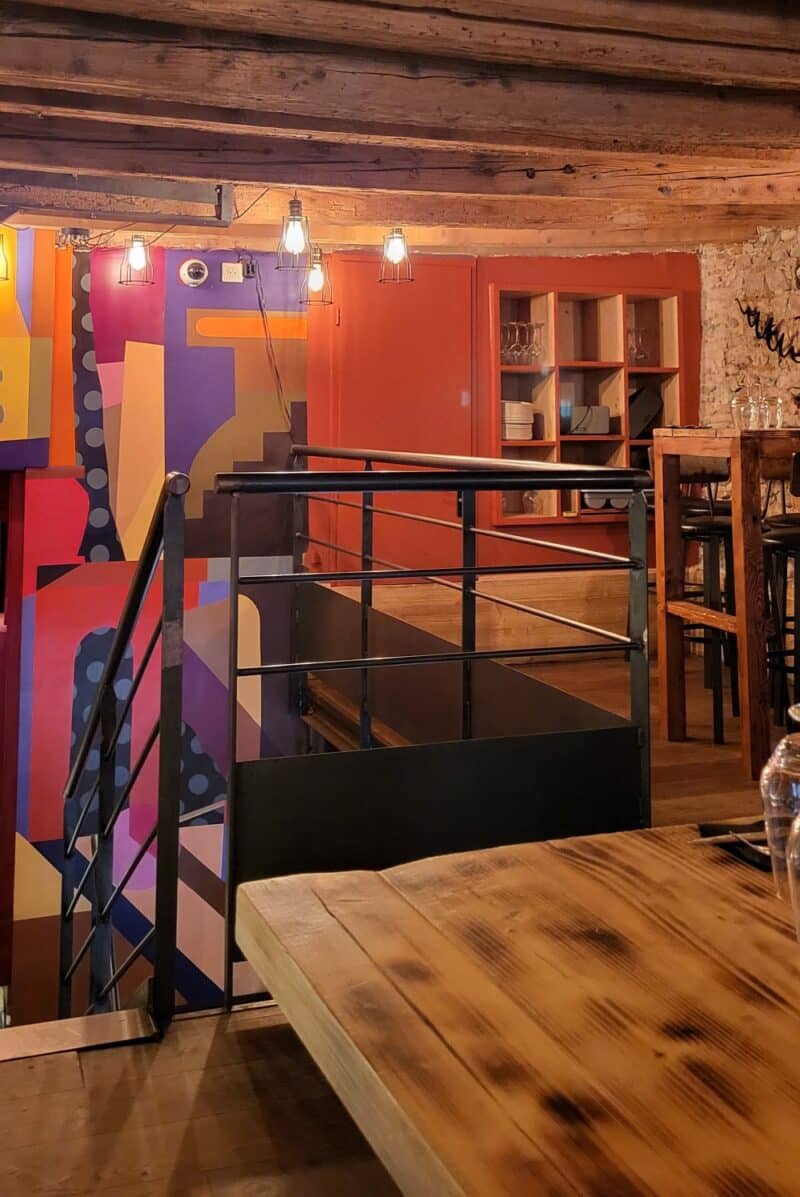 My girlfriend and I are tempted by a ceviche consisting of lean meat and sweet potatoes, all lightly spiced with ginger. A nice contrast of flavors for this colorful dish of Peruvian origin. It's good, it's fresh and lean, it lends itself well to making ceviche.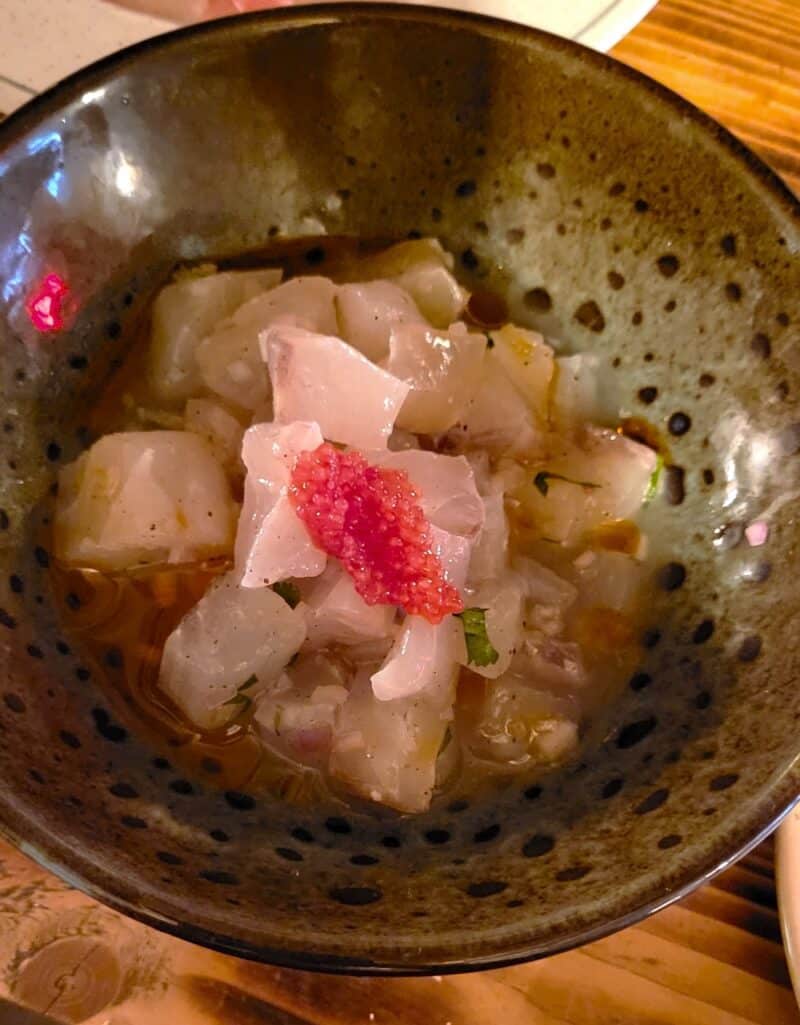 Later, my friend orders some Iberian ham. If it arrives on our table rather well presented, in the form of a chiffonnade, we thought it was accompanied by a little greenery to decorate it. We then cheerfully dig into the bread bunk to accompany these beautiful slices of ham.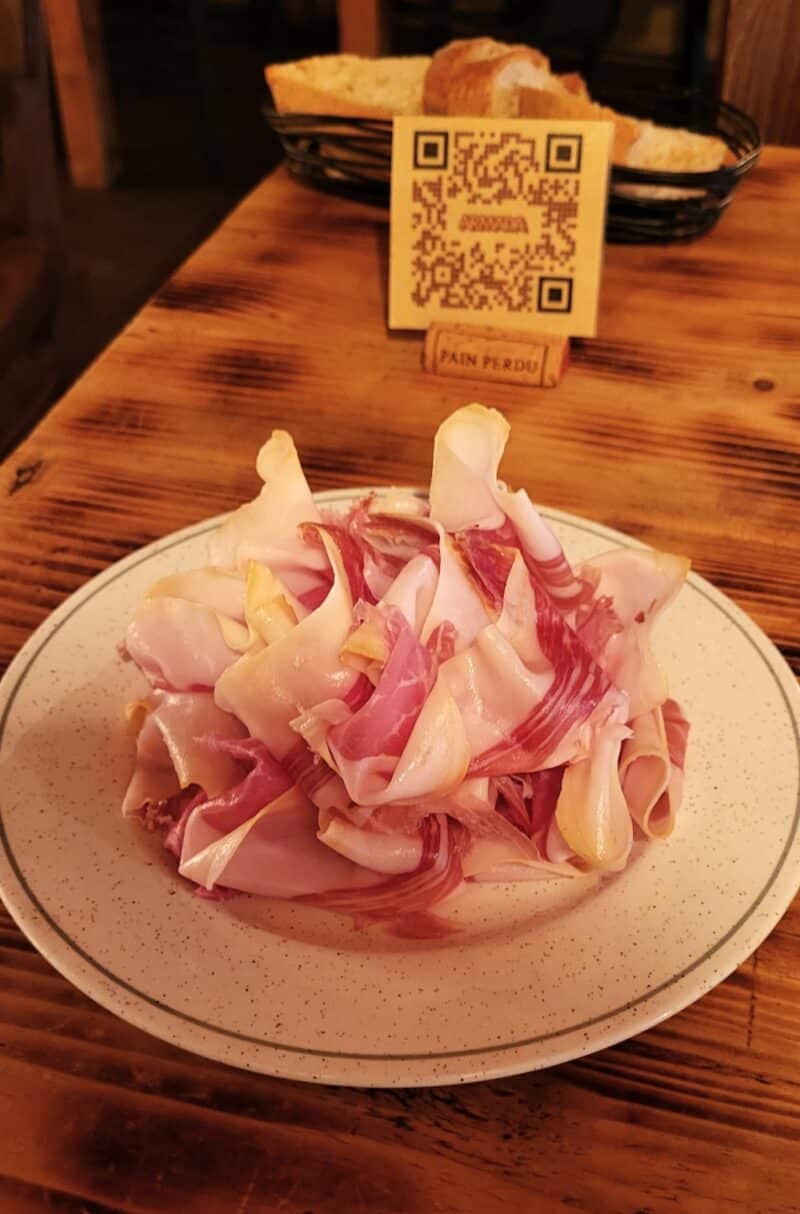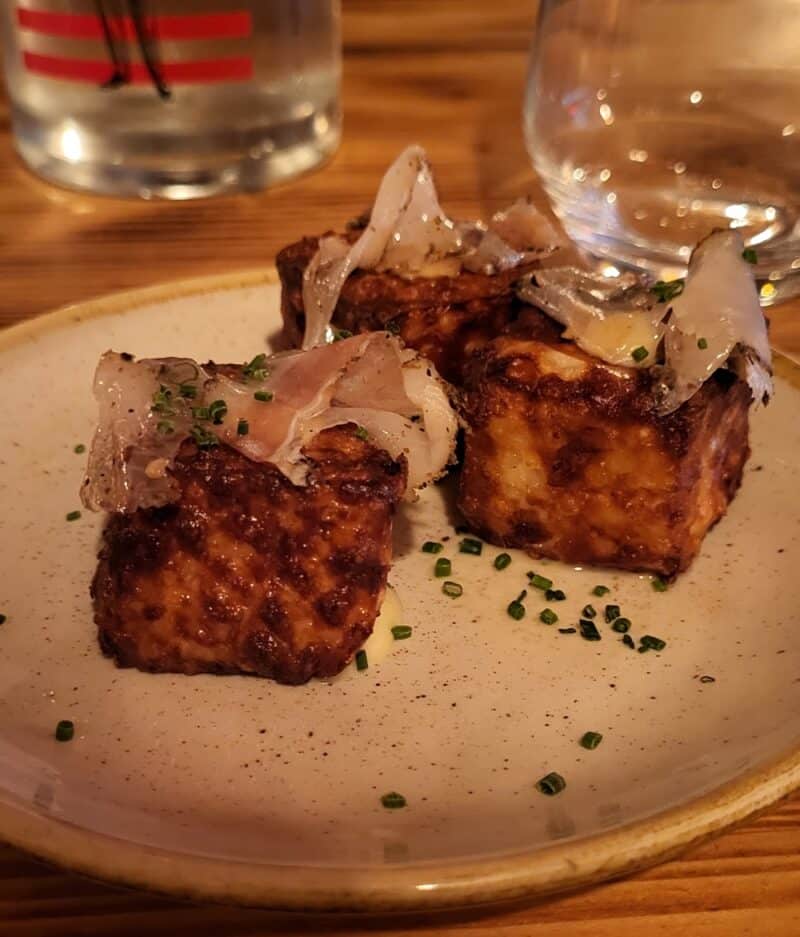 Finally, we choose parmesan and tapioca croquettes with their little tangy lemon hearts topped with a slice of Jowls which they dry themselves. It's very good and the slightly citrusy side allows the whole thing to not be too gross and mushy.
Inspirations from all over the world
The inspirations of Armada are many, because after Peru then Italy, Japan direction with a tasty and crunchy tonkasu (breaded chicken) with mayonnaise which we greatly appreciated. To the point that I didn't even have time to take the portrait with my camera.
Finally, made up by the dishes, but above all by the quantity of bread ingested, we stop here, even if whetted by a rather intriguing dessert: the caramelized Jerusalem artichoke strudel with its Jerusalem artichoke ice cream. Atypical.
It is this part of atypicality that we unfortunately lacked in our chosen dishes. Indeed, we were not informed that the dishes on offer were a little less daring on weekends, the team behind the stoves was not complete. The menu is largely cut out of its hot dishes which made my mouth water when I read it. No hard feelings, it'll just be put off, because I still have an army (yeah, easy joke) of little flavors to pop into my mouth.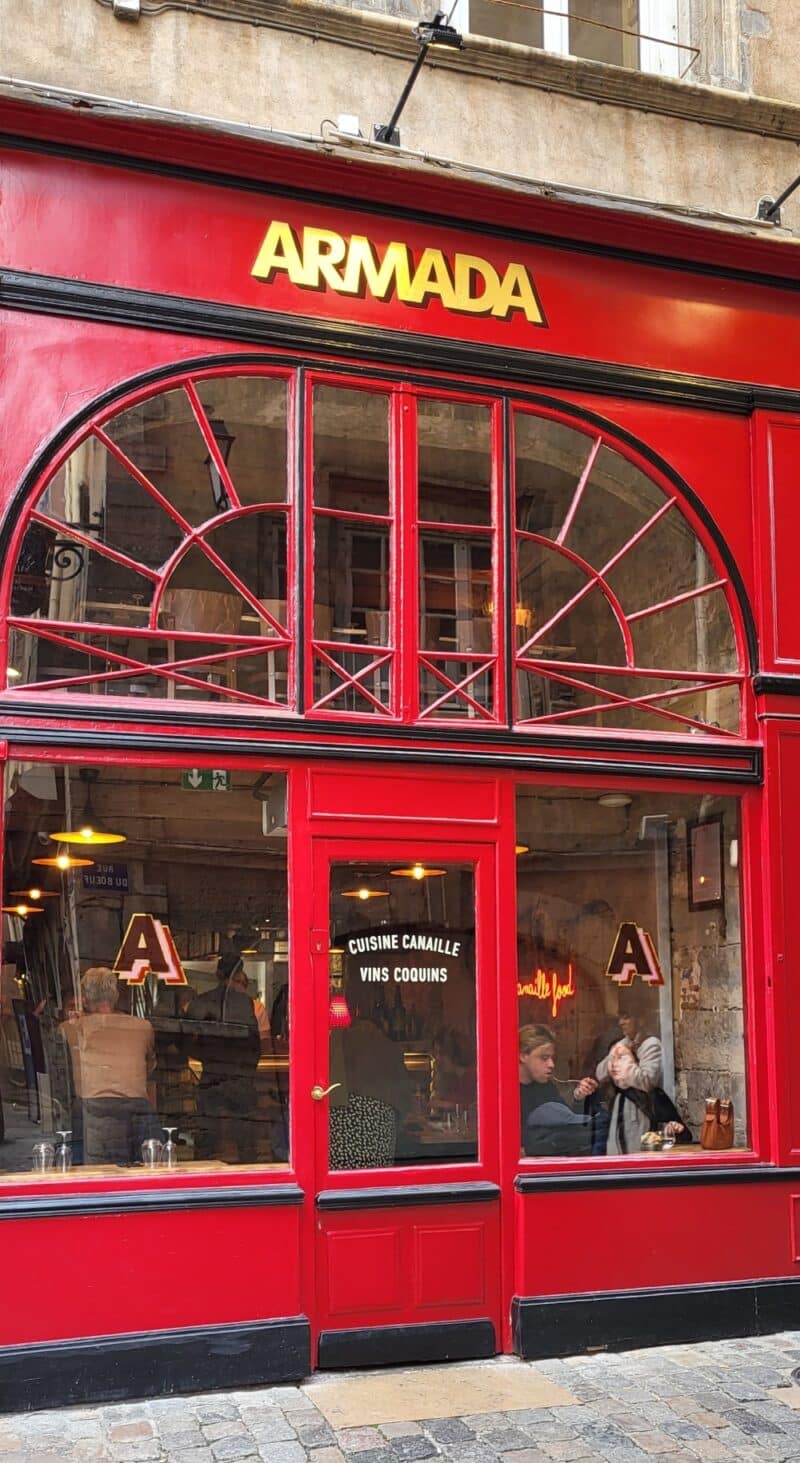 Verdict
We liked 😍:
The concept that changes a bit compared to everything you can find in Vieux-Lyon
Attentive and smiling waiters
We liked least 😩:
There are far fewer choices on weekends
A little pricey considering the portions, but it's definitely the price of the quality and the place
Armada is far from what Old Lyon can offer us. No traditional cuisine here, but gourmet tapas for sharing. I will therefore return for this tempting menu as well as for its thirty references of carefully chosen wines, giving pride of place to organic and natural wines.



Army
📍16 Rue du Boeuf, 69005 Lyon
🚇 Metro D, Vieux-Lyon stop – Saint-Jean Cathedral
⏰ Open Monday to Friday from 12.00 to 14.30 and then from 19.00 to 22.30, Saturday from 12.00 to 15.00 and then from 19.00 to 23.30 and Sunday from 12.00 at 11.30pm.
📸 Follow Armada on Instagram
💻 Armada website