What budget for a gastronomic appointment at the top of the peaks? – 12/26/2022 at 11:45
How about taking advantage of your winter sports stay to treat yourself to a starred meal? (photo credit: Instagram screenshot @ladamedepicle1920)
If we see a lot of hats on the mountain, we also have a lot of hats, and it's not just skiers who are awarded stars. Anne-Sophie Pic, Yannick Alléno, Jean Sulpice: many prestigious chefs who know the peaks. How about taking advantage of your winter sports stay to treat yourself to a starred meal? We tell you everything about the budget to plan.

1920 – The Lady of the Pic, Megève

How about taking advantage of your winter sports stay to treat yourself to a starred meal? (photo credit: Instagram screenshot @ladamedepicle1920)
Anne-Sophie Pic took over the Four Seasons Hotel Megève, owned by the Rothschild family, in the summer of 2021. Nine months later, the Michelin Guide awarded the establishment its first star. La Dame de Pic, as she is nicknamed, invites her guests to discover her culinary universe characterized by bold combinations of flavours.
A la carte, starters range from

56 euros

(roasted Guernsey parsnips with nuts, warm mayonnaise with dill seeds, Madras and Amontillado curry) à

85 euros

for the Roscoff cake. As for fish, you can choose between the scallops from Dieppe (

80 euros

), Breton lobster (

145 euros

) and the Kristal caviar bar, a mythical dish created in 1971 by the father of the chef, Jacques Pic, and reinterpreted with a sparkling champagne sauce, pink sake and jabara lemon from Mas Bachès (

230 euros

). To count

between 75 and 95 euros

for a meat dish, and between

32 and 36 euros

for a sweet note.
This year, Anne-Sophie Pic is launching a new concept, "Pic de Midi". Intended for skiers, this gastronomic formula, made up of 4 dishes and offered at

190 euros

, starts on the hotel forecourt, where warm slippers are provided. Taking advantage of the terrace and the panoramic view, the lucky ones will be able to taste a menu inspired by the Savoyard terroir before hurtling down the snowy slopes again.
In the evening, the Pic Blanc menu is offered at

270 euros

.
1920 – The Lady of the Pic
Four Seasons Hotel Megeve

373 Chemin des Follieres – 74120 Megève

La Bouitte, Saint Martin of Belleville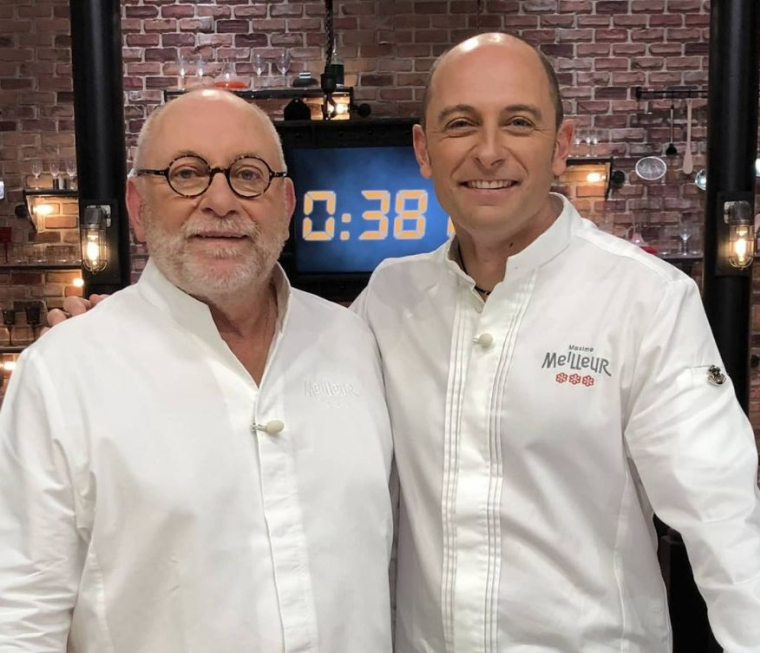 How about taking advantage of your winter sports stay to treat yourself to a starred meal? (photo credit: Instagram screenshot @la_bouitte)
La Bouitte ("little house" in patois) is a wonderful family adventure that has been going on for more than 20 years. In the 1970s, René Meilleur founded a restaurant with his wife Marie-Louise, before turning to haute cuisine in 1981. He was joined by his son Maxime in 1996. Together, these two self-taught enthusiasts made a career: first star in 2003, second in 2008, to reach the Holy Grail in 2015 with the coveted third star. A first for a Savoyard restaurant! René and Maxime Meilleur are also the only father and son duo who have stood out together, from first to third star.
On the road from Les Menuires to Val Thorens, at an altitude of 1500 metres, the Meilleur family welcomes you in an opulent chalet entirely in wood and dry stone, located in a corner of paradise in the heart of the Vanoise massif, at the gates of the ski area largest in the world: the 3 Valleys.
Behind the stove, father and son compose an inventive and refined cuisine, awakening the Savoyard culinary heritage as much as they pay homage to it. Among the must-haves, the arctic char from our Savoyard lakes, served pearly, brushed with genepì, rocket powder; glazed veal sweetbreads, Agria potatoes, horseradish "Russian cigarette", beech smoke and duck foie gras cutlet, fresh corn galette, St-Marcel honey, old vinegar reduction, signature dish with whole accompaniment the story of La Bouitte, from the first to the third star.
The Carte Blanche menu can be composed according to your wishes: 4 courses (

269 ​​euros

), 5 courses (

299 euros

) and 8 dishes for the sweet tooth (

419 euros

).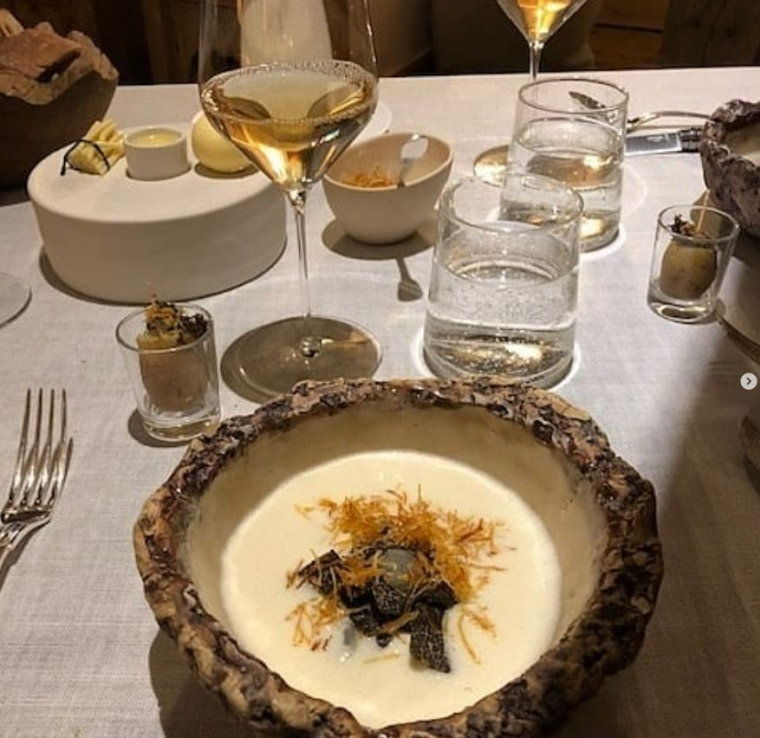 How about taking advantage of your winter sports stay to treat yourself to a starred meal? (photo credit: Instagram screenshot @la_bouitte)
For gourmets on a smaller budget, René and Maxime Meilleur founded the Bistrot Simple et Meilleur, which the Michelin Guide has awarded a Bib Gourmand in 2022. You will find a menu at

37 euros

and a 4-course carte blanche menu al

75 euros

. Also on the menu are convivial dishes to share, such as authentic veal stew (

72 euros

for 2 people), roast poultry, mashed potatoes, wild thyme stock (about 1.6 kg, 2 to 4 people,

120 euros

), as well as the traditional cheese specialties: Reblochon fondue, Savoyard fondue and raclette (

38 euros

Each).
La Bouitte
Hamlet of Saint-Marcel – 73440 Saint-Martin-de-Belleville

1947 at Cheval Blanc, Courchevel

The 1947 owes its name to the most prestigious vintage of Château Cheval Blanc. Yannick Alléno, voted best French chef by his peers in 2008, has been at the helm of the gastronomic restaurant of the 5-star hotel Cheval Blanc since 2011. In 2017 he joined the coveted three-star chefs club of the Michelin Guide. Yannick Alléno mixes cult mountain products and contemporary techniques. Among his specialties, floral steamed scallops and Reblochon truffles. A unique experience reserved for a very small number of privileged people, given that the room has only 5 tables. Booking highly recommended!
On the menu we discover among the starters (

between 56 and 128 euros

) a mango seasoned with black truffle, whipped cream with Château d'Yquem caramel, followed by arctic char dipped and delicately cooked in juniper butter, raw fermented kohlrabi, veiled with Piedmontese bacon (dishes include

98 and 178 euros

) and, finally, ravioli with pumpkin frangipane, honey and citrus butter, bitter almonds (

36 euros

).
The Tasting Menu is offered at

395 euros

. In particular, the chef proposes Bresse poultry with blond liver on country crouton with caviar, tenderloin in yellow wine, root spinach with nutmeg and leg in potato salad with lovage and truffles. For the sweet note, let yourself be surprised by a fir extraction in coffee-glazed jelly.
1947
Hotel of the White Horse

The Alpine Garden – 73120 Courchevel

Auberge du Pere Bise, Talloires

Of Savoyard origin, from a family of restaurateurs and hoteliers, Jean Sulpice trained with chef Marc Veyrat, who appointed him second in his restaurant La Ferme de mon père in Megève.
In 2002 he moved to the Oxalys, a hotel and mountain residence in Val Thorens. He got his first star in 2006, at the age of 26, followed by a second one in 2010.
In 2016, he took over an emblematic house in Haute-Savoie: the Auberge du Père Bise founded in 1903 in Talloires, facing Lake Annecy. Crowned with three stars by the famous red guide, he has seen many personalities pass by, from Winston Churchill to Richard Nixon via Charlie Chaplin and Brigitte Bardot. In 2017, Jean Sulpice was crowned Chef of the Year by Gault & Millau, who awarded him 4 toques and a score of 18/20. The following year he gets two stars in the Michelin Guide.
As for the dish, the chef proposes a menu in 6 or 8 steps (

235-275 euros

), between perch, virgin sauce and pistachio, mallard and spruce, blueberry from our mountains and gentian, or even chocolate and saffron from Savoy.
For tighter budgets, know that it is possible to sample Jean Sulpice's cuisine at the Le 1903 restaurant, which celebrates local Savoyard products. To count

60 euros

for starter + main course or main course + dessert,

70 euros

for starter + main course + dessert, e.g

80 euros

for starter + main course + cheese + dessert.
Finally, the Marius Bar is open all day for a gourmet break. You will taste beef roulade marinated in herbs or a veal crusted pâté, tarragon and candied lemon (

19 euros

), beef cheek cappuccino, potato mousseline with Mondeuse sauce (

38 euros

) or fresh pasta with black truffle (

48 euros

). desserts:

17 euros

.
The Father Bise Inn – Jean Sulpice
303 route du Port – 74290 Talloires

Note: The restaurant will be closed from 18 December 2022 to 16 February 2023.

The Explorers, Val Thorens

If Val Thorens is the highest ski resort in Europe, it also reaches heights in terms of restaurants and luxury hotels. Located in the heart of Pashmina, a sublime 5-star hotel at an altitude of 2,345 meters and conceived as a luxury retreat, Les Explorateurs received its first star in 2017, just seven months after its opening. The critic Gilles Pudlowski salutes "a beautiful, refined and mountain table, which alone would be worth the trip to Val Thorens". Chef Josselin Jeanblanc invites you to explore both on the plate and thanks to the decor inspired by the great high mountain expeditions.
The card was designed in collaboration with his mentor Romuald Fassenet, best worker in France. On the price side, it matters

48 euros

for voices,

59 euros

for the fish,

69 euros

for meats and

25 euros

for dessert.
The chef offers 3 menus:
Cordée menu

98 euros

;

Refuge menu a

128 euros

;

Large Expedition menu in 7 courses, for the whole table, a

180 euros

(possibility of vegetarian menu).
Explorers
Hotel Pashmina – The Refuge

Place du Slalom – 73440 Val Thorens

In Manigod, Élise Veyrat takes over her father's restaurant


Chef Marc Veyrat will pass the baton to Élise, the youngest of his daughters. At 25, the youngest of the family takes over the reins of La Maison des Bois, renamed Le Hameau de mon père. Facing the Aravis range, at an altitude of over 1,700 metres, this gourmet restaurant used to be one of the most famous in the region: it had twice been awarded a 20/20 rating by Gault & Millau, and a third Michelin star in 2018 (before losing it the following year). Succeeding her father does not scare the young woman, who intends to create "a table of conviviality and sharing". As for the chef in the black hat, you have just opened a new restaurant, Rural by Marc Veyrat in Megève, in collaboration with the Moma Group. Edmond de Rothschild Heritage and the Four Seasons Megève Collection are also associated with the project.
Read also:

Starry eating at home
A starred meal at a low price
The Christmas logs of pastry chefs