At the counter, Foodles stacks small plates into large ones
The start-up, which raised 31 million in 2021 to support its development, is implementing a very convincing counter concept.
Since 2015, Foodles has been a pioneer of new generation collective catering, offering companies gourmet and ultra-fresh menus, delivered every day in refrigerators equipped with patented technology and 100% Made In France. This start-up, which no longer seems to be one with 350 client companies and 300 employees, has just inaugurated its showroom located at its headquarters in Clichy (92). It allows you to discover, in full size, the many solutions designed to meet the catering expectations of companies with 50 employees.
DR
The Foodles Officer runs the counter from A to Z…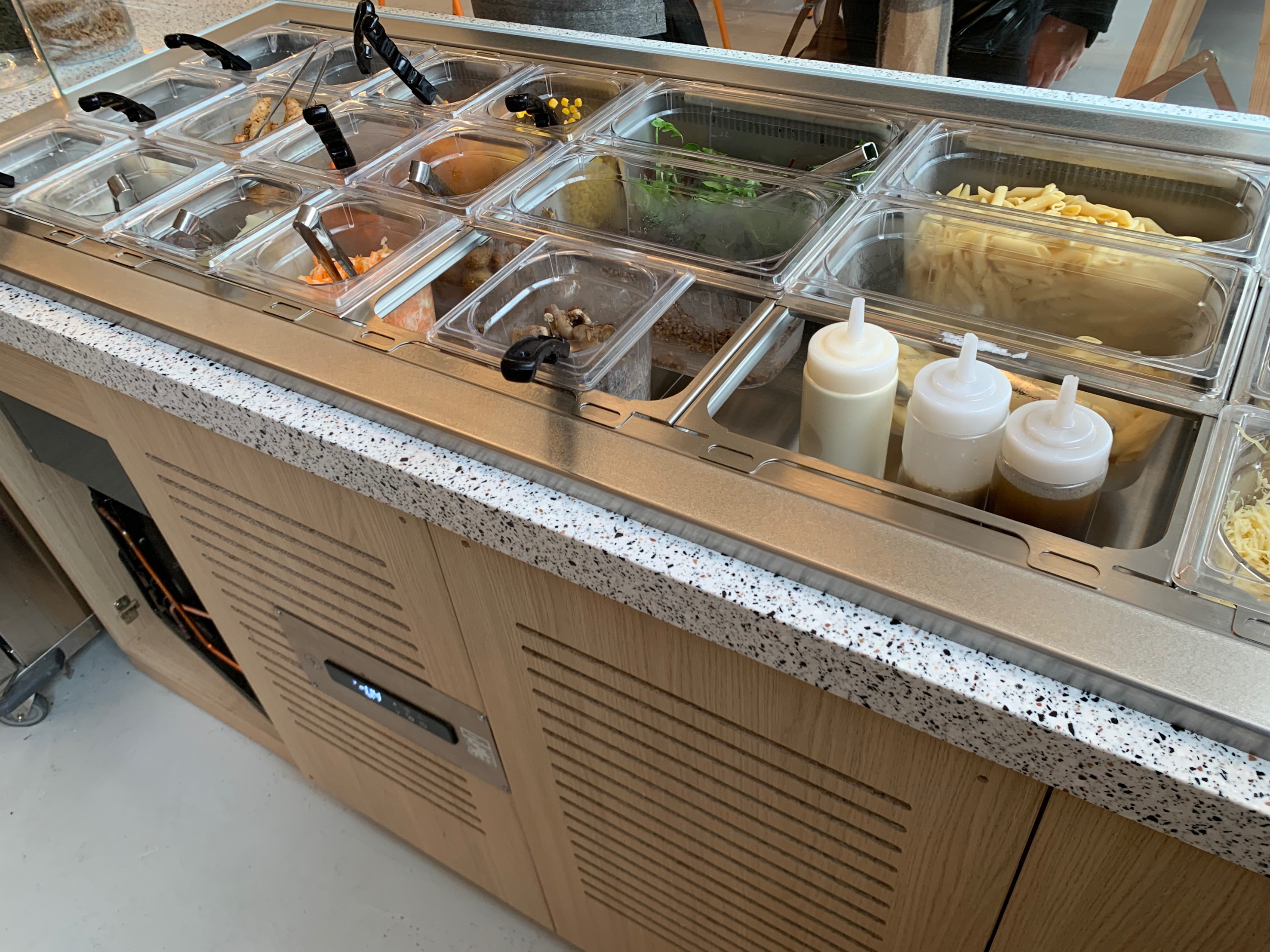 N.RIOUX
The Salad'Bar is integrated into the counter (Vauconsant)
Connected refrigerators and tempting counters for employees
Foodles' roadmap is clear: reinstate employees in the best possible way, virtuously and with a high level of quality. Provided it does not exceed a certain threshold. It's not about straying from this strategy, nor about attempting forays into hotel room service or gigantic office towers. " Now our model is tested. Everything is integrated, except for some partnerships with some restaurateurs depending on the geographical area. On the other hand, we have established partnerships with major hotel chains (note: Marriott and Hilton in particular) but to reinstate their employees who often have staggered schedules. Foodles offers are well suited to this type of profile. And we are located in medium-sized office buildings such as Equinox in Clichy, which employs around 600 people, or the Swiss Life headquarters. We work with many real estate companies "to tell Marie Tabetsing, director of food marketing. Coming into contact with this clientele thanks to its famous connected refrigerators, Foodles took the opportunity to explore the needs of SMEs and chose to enrich its offer with the Foodles Comptoir managed by one or more Foodles Officers. The offer is tailor-made according to the company's requests and can go as far as a turnkey service including the setting up of the counter and the fitting out. To present this new offer, Foodles has just set up a showroom at its headquarters which, at lunchtime, is also aimed at company employees.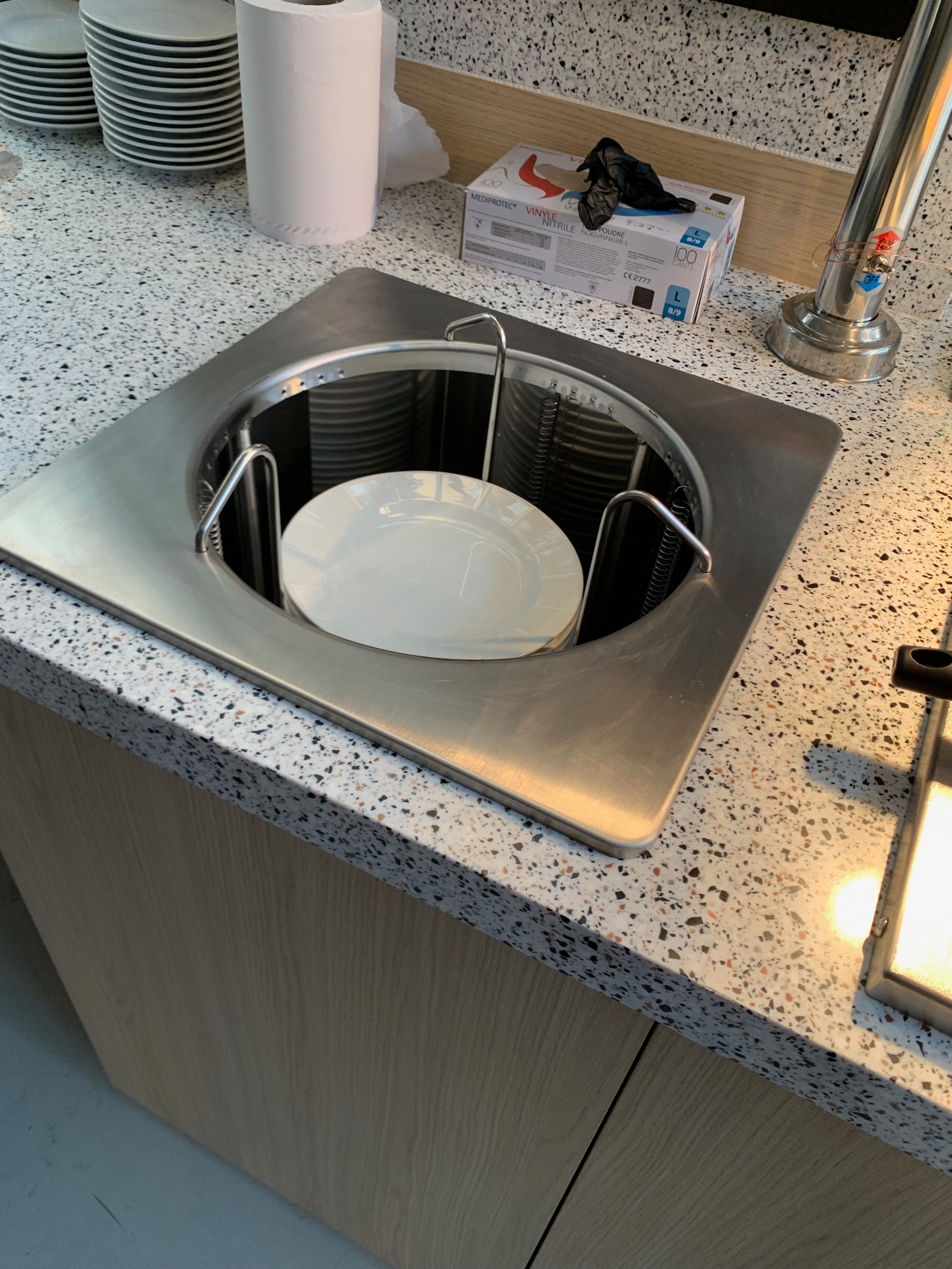 N.RIOUX
The plate warmer is integrated into the counter.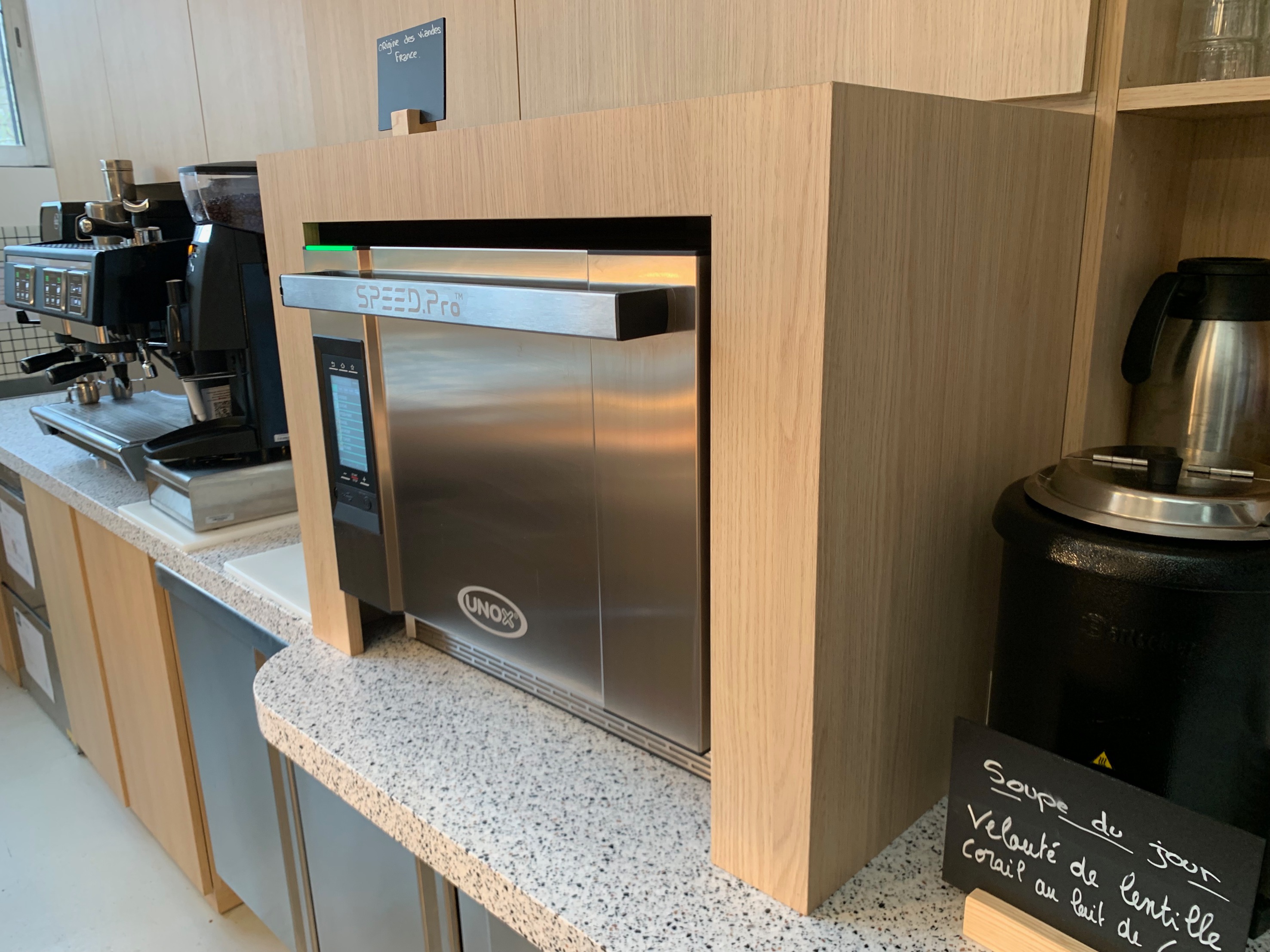 N.RIOUX
A Speed ​​Pro, UNOX's accelerated cooking oven, is used to manage the hot snack offerings.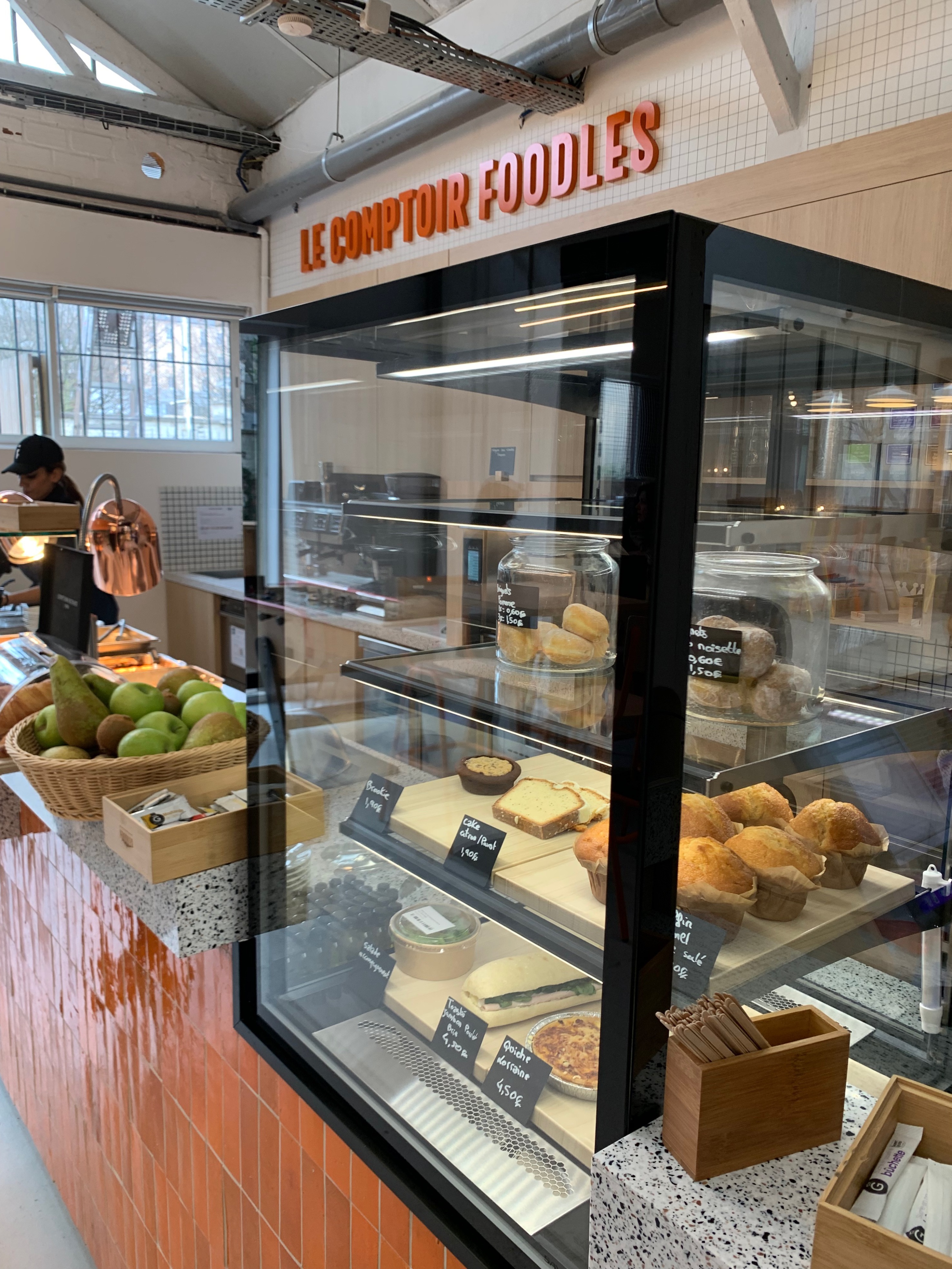 N.RIOUX
On the sweet side, sweets are highlighted in a 4-sided display case
A custom counter
" Our bench adapts to the needs of each company " Explain Maximilian Rachmuhl, Counter project manager, "iIt is multi-temperature with a Salad'Bar and/or sandwiches on the cold side, but also offers hot meals with hot snacks or a daily special. In some cases we can also add a grill area ". Foodles has selected its suppliers to offer fully operational counter arrangements for the distribution of the brand's menu. The Foodles counter has its codes, but the company knows how to adapt to the decor of a company and works side by side with architects.Foodles, for example, was selected by Marathon and HW Capital on the building Equinox at Clichy for his ability to satisfy all the needs expressed, both in terms of catering – with a quality food offer that has been able to preserve the values ​​of social catering at a fair price – and in the development of spaces, in particular with his collaboration with the architectural firm roof and me on development projects.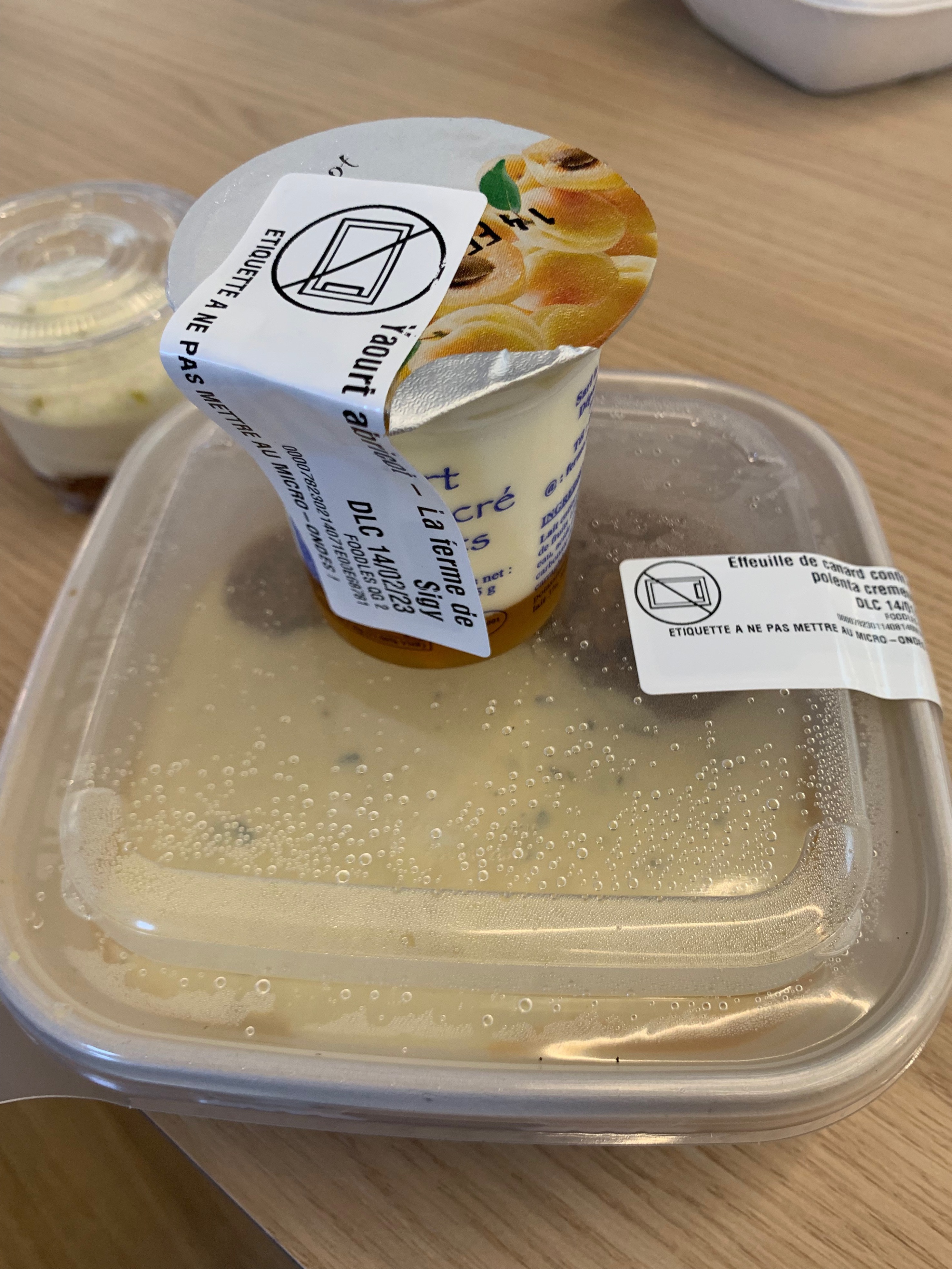 N.RIOUX
The dishes in the connected fridge are equipped with RFID tags…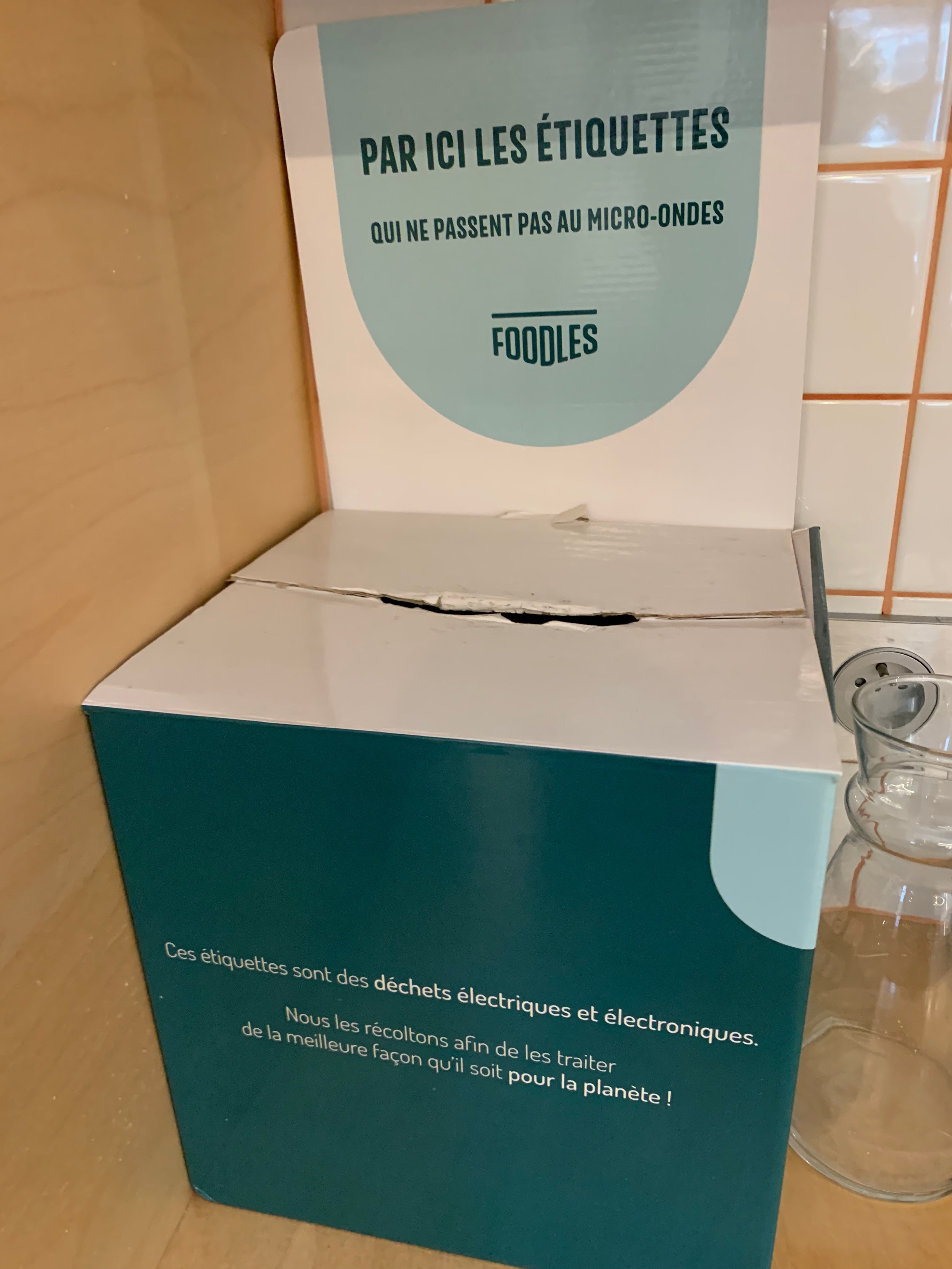 N.RIOUX
… which are also recycled!
The showroom counter embodies the basic offer proposed by Foodles. It is signed Vauconsant. Included are: a Salad'Bar, a large warming plate (Matfer-bourgeois) surmounted by heating lamps, an oven (Tournus equipment) and a very aesthetic built-in plate warmer. Out back, there is a traditional coffee machine (Unique for Caffè Richard), an accelerated cooking oven (UNOX Speed ​​Pro) to have a snack in seconds, cold low cabinets (Coreco for Codigel) and the "cauldron" which presents and keeps the soup of the day hot. At the end of the front line, a window (SAYL) highlights the candies on all four sides and the cash register counts the guest's spending using any means of payment (badge, TR, CB, etc.). The bench is supplied by Foodles in cold connection through its laboratory or its service provider and requires the supply of a small reheating office equipped with a 10-level combi oven (Unox) and a cold cabinet (To breed). Once heated, the dishes are kept warm in the oven before being presented on the hot plate. The menu consists of homemade dishes, with recipes studied with quality raw materials, often local and designed to be appetizing to the eye (golden/gratin, crunchy, well decorated, etc.). Foodles has chosen to mainly integrate its own productions which are then sent to the sites. In the regions, the brand has opened logistics centers in St Ouen, Lyon, Marignane and soon in Fréjus. Its offers are available in more than 30 cities in France but also in Belgium and the United Kingdom.
A fine virtuous service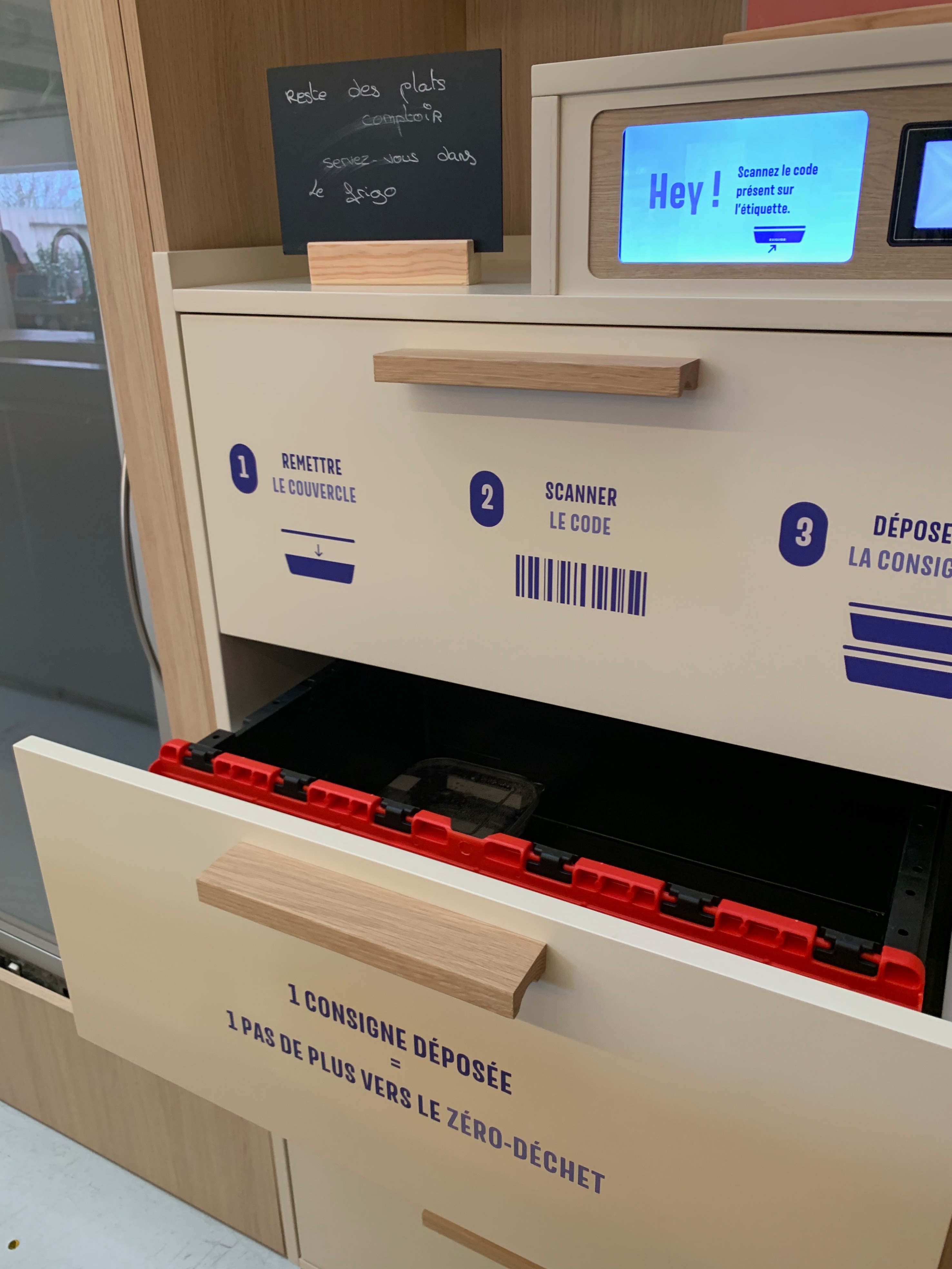 N.RIOUX
The locker, a Foodles development, is also connected.
Whether it is equipped with connected refrigerators, a bar and/or counter, the Foodles restaurant area – where it is also possible to supply furniture – also includes end-of-service services. All recipes can be served in reusable or non-refillable containers. For the former, instructions have been developed so that employees can enjoy their dish on real crockery and return it at the end of the service in connected drawers specially designed by the brand. In this case Foodles supplies either a washing machine (Electrolux) in situ, or a "decentralized" solution (Options Solutions). However, the service involves an additional cost to correctly manage the logistics of this phase. If you choose the "disposable" version (only bagasse containers), the separate collection takes place through a unit dedicated to the bins, also for the organic waste which is then recycled in various forms.
To manage the distribution of water or hot drinks, a counter can house a fountain of still or sparkling water (Castalia) and an automatic coffee machine (net). Note, an intelligent machine (AUUM) that cleans, sanitizes and dries a glass or cup (bodum) in just 10 seconds. Its steam technology eliminates 99.9% of bacteria without any chemicals. The amount of water used is extremely low with only 2 cl per cycle.
Because in this young and dynamic company, the teams have started a carbon action plan that integrates the realization of its own carbon footprint. The latest reveals a 22.5% reduction in carbon weight per meal distributed. A result that encourages them to go even further by working on packaging, logistics (a Foodles meal travels less than 40 km) and food waste. Because let's not forget that Foodles is also a FoodTech company that knows how to handle algorithms. By adapting the replenishment of refrigerators as much as possible and offering promotions on Fridays, waste was better controlled and made it possible to fall below the 10% threshold at the end of last year. As for the Friday promotions, they increased their sales by 25% that day! Smart!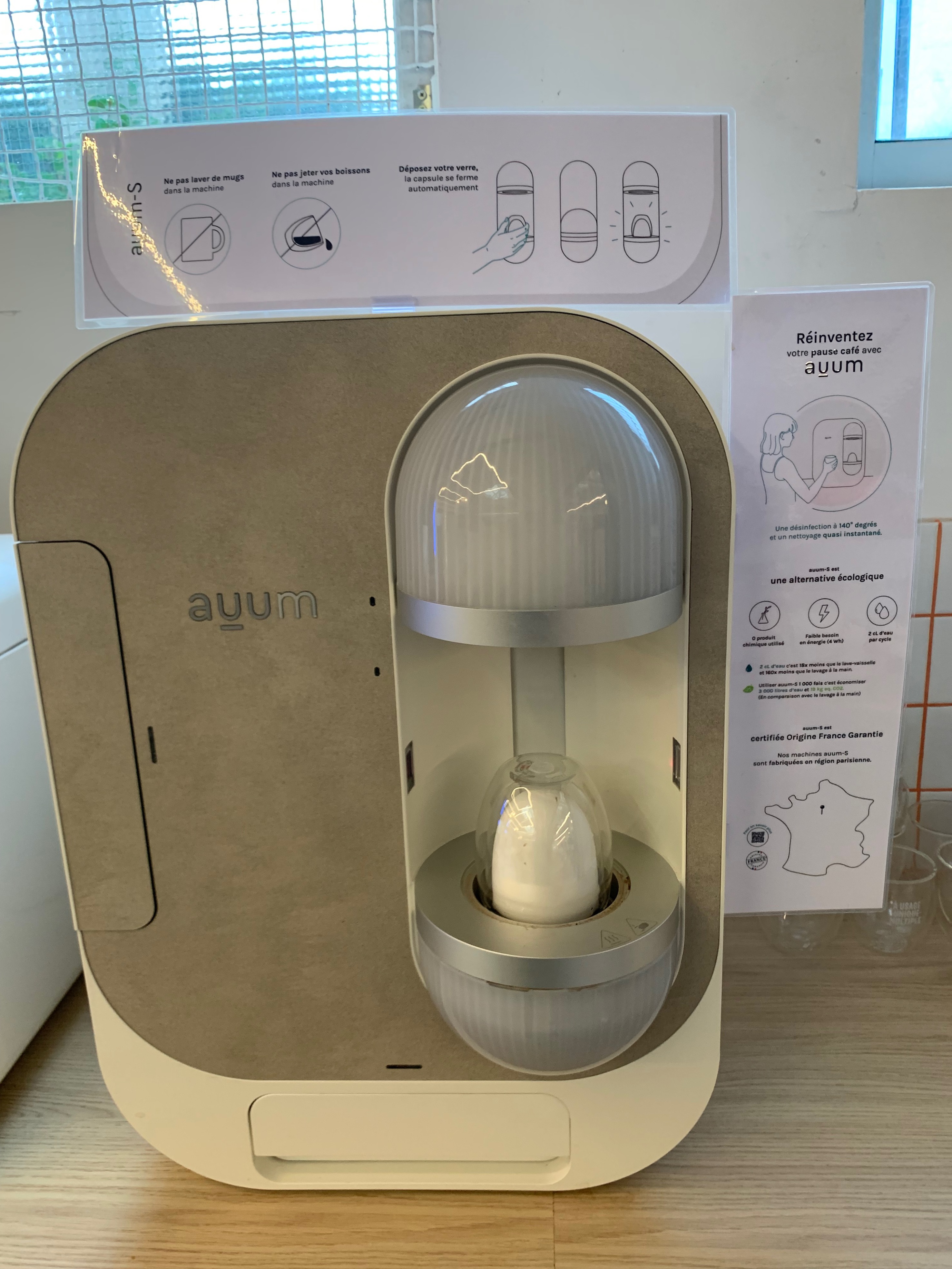 N.RIOUX
AUUM, an intelligent machine that cleans, disinfects and dries a glass in just 10 seconds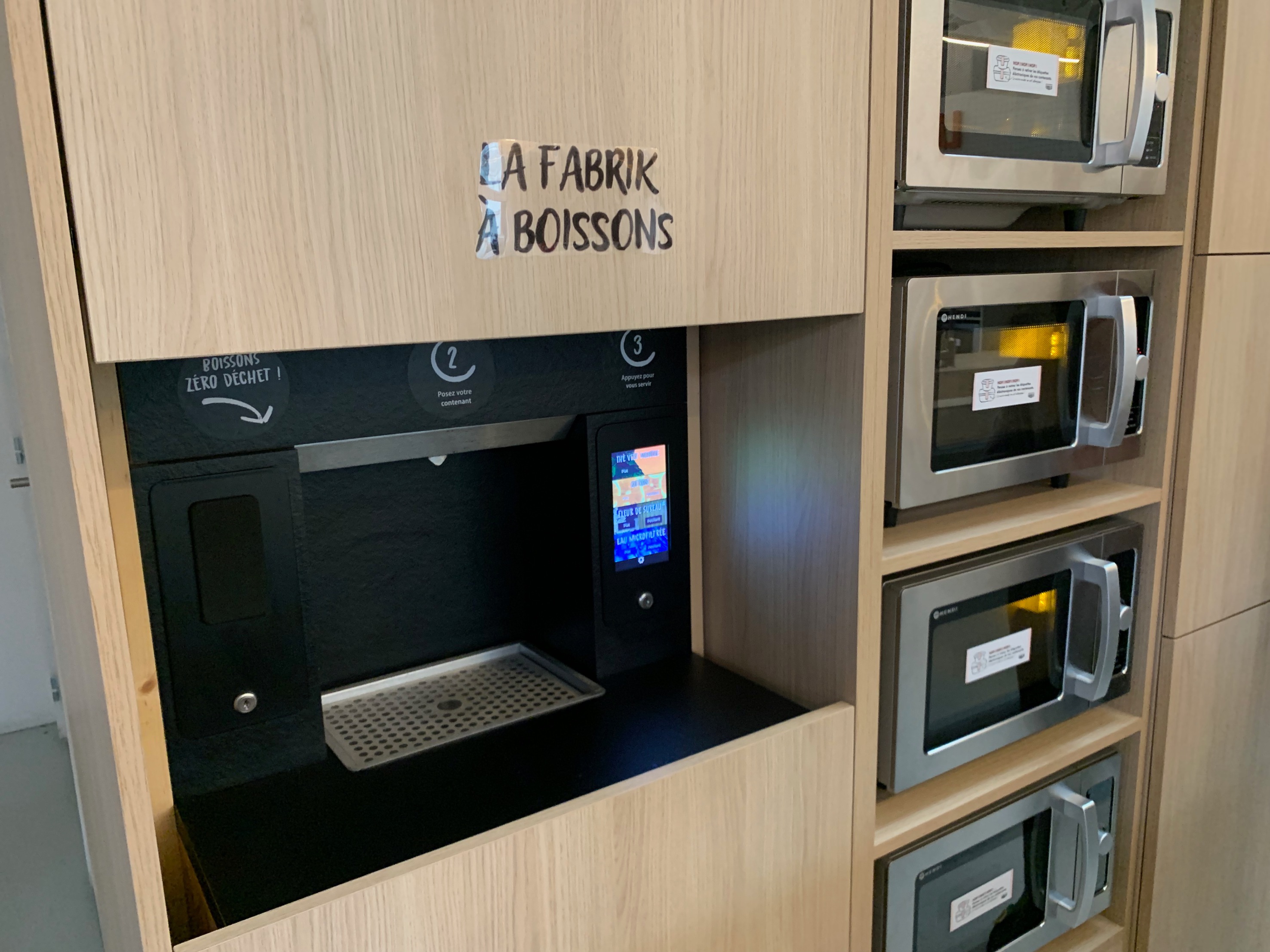 N.RIOUX
Foodles has partnered with La Fabrik à Boissons (Behring)
">