Viêt kiêu celebrates Têt in Belgium and France
On the Lunar New Year, the Vietnamese celebrate the biggest holiday of the year. Even the Vietnamese living in Belgium and France are busy celebrating the event in a festive and authentic atmosphere.
>> Tet Quy Mao in the hearts of Vietnamese here and there
>> Tet greetings to Overseas Vietnamese
>> Overseas Vietnamese celebrate the Cat Lunar New Year 2023
For Dang Khôi and Huong Lam, Brussels residents, the Lunar New Year remains a beautiful tradition.
Despite living in Belgium for a long time, spouses Dang Khôi and Huong Lam never miss the celebration of the Lunar New Year, an important tradition in Vietnam, their native country.
A tray is prepared to be placed on the altar during the first few days of the Lunar Year to solicit the help of the ancestors to have a good year.
Finding the ingredients to prepare Vietnamese dishes is quite easy thanks to the many Asian shops located in Europe. While Dang Khôi goes to the shop which is five kilometers away from their home to buy glutinous rice, green beans, mushrooms, vegetables and dongHuong Lam stays home to clean and decorate the house.
With all the ingredients, we prepare ban chung (glutinous rice cakes stuffed with mung bean and spicy pork) but this year, unfortunately, children cannot participate because they have to go to school. They usually enjoy being with their parents, cleaning the sheets dong, roll out the rice, the green beans, and the meat and form loaves that must be square. "We make about twenty cakes a year to, in addition to feasting, offer it to our friends here, they love it", adds Huong Lam.
This year their offering platter consists of seven dishes: boiled chicken, nem (fried spring rolls), xôi gâc (red sticky rice with momordic), that dong (pork jelly), gio lua (mortadella), thu thu (head pie), e canh mang (boiled bamboo shoots). It is a typical Vietnamese dish with essential dishes for the Lunar New Year.
The preparation of such a complete pan takes about five hours, not counting the preparations of the day before. "We celebrate Tet every year. It is an essential tradition that brings us closer to our native country"explained Huong Lam.
Dang Khôi says they prefer to go back to Vietnam on New Year's Eve to go to school. "Of course, traveling to Vietnam to celebrate the New Year is difficult for us, but we always try to mark the moment so that our children understand the tradition of their native country well.", Dang Khôi confided.
Tet in juveniles Vietnam in France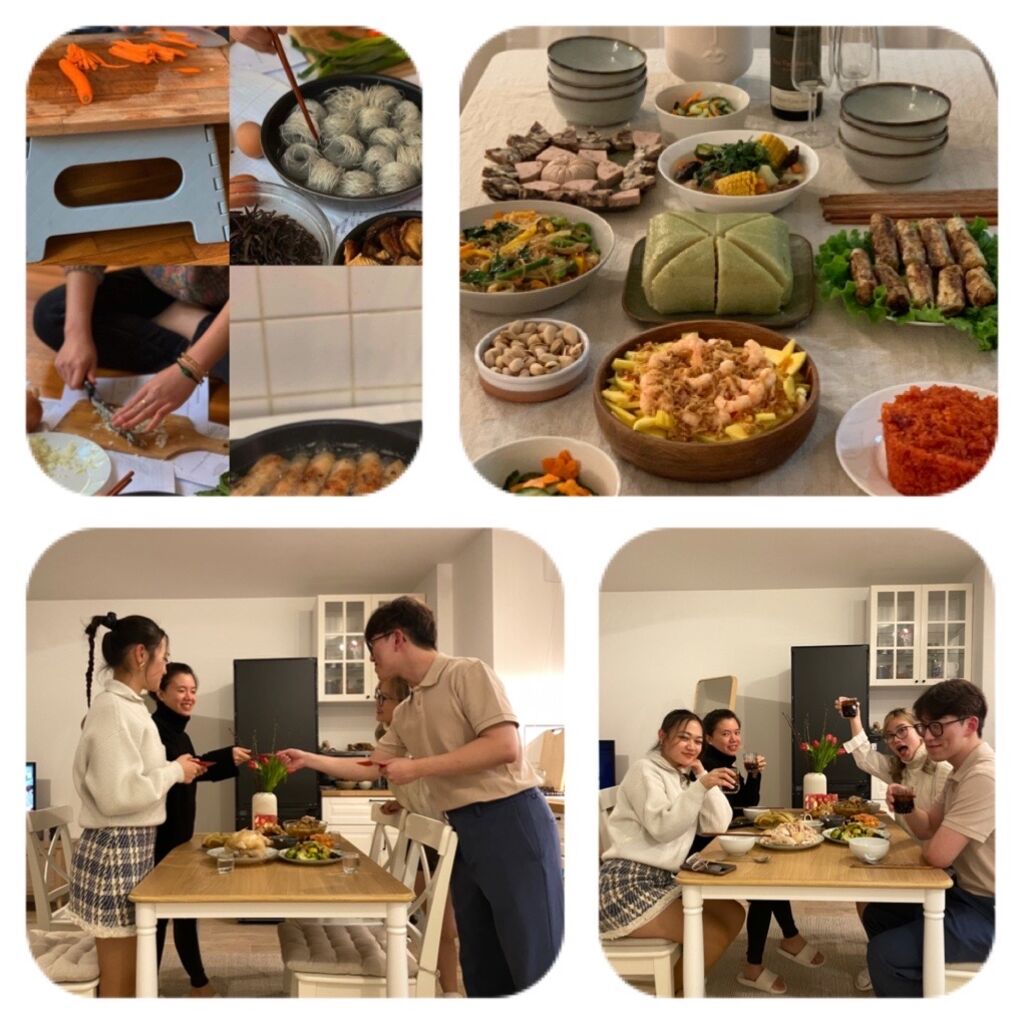 Anh Quang and Quê Anh, with their friends, during the Lunar New Year in Sartrouville (France).
As for the young couple Anh Quang and Quê Anh, domiciled in Sartrouville, in the suburbs of Paris, Têt is an opportunity to meet up with friends. Having settled in France for three years, they still think of Vietnam, especially as the first days of the lunar year approach. Since their relatives are all in Vietnam and their schedules don't allow them to come back to celebrate Tet with their family, they invite their friends over for dinner.
Since they are young, celebrating the Lunar New Year in Anh Quang and Quê Anh is more or less streamlined than for older couples like Dang Khôi and Huong Lam. But making a tray to greet the past year and greet the new year is always a must. the ban chung it's made and offered by a friend, but they prepare it themselves spring rollscanh bong (puffed pork rind soup, cooked with vegetables), xôi gâc And first name (salad) and go buy flowers to decorate the house. This year, New Year's Eve and New Year's Day fall on Saturday and Sunday, so the young couple can enjoy it without any problems. On New Year's Eve he does not fail to video call her parents in Vietnam to wish them a year full of joy, luck and happiness.
More than a national tradition, Têt is an opportunity to get together with the family. But for Vietnamese living abroad, this holiday is also a time to teach the younger generation about the country's customs and traditions, to celebrate the national culture and to reaffirm their love for Vietnam wherever they are. We hope that the traditional dishes and the warm atmosphere within their family will help them alleviate the lack of Vietnam, their home country.
Text and photos: Mai Quynh/CVN